POVERTY TAKES TOLL ON EBONYI RESIDENTS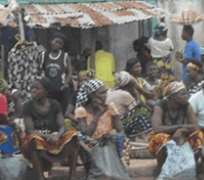 Waiting to be engaged: The job seekers on one of the roads
Left for them, they would have loved to engage in something more meaningful. But since what they desire in terms of good jobs are not there, indigent citizens in Ebonyi State have hit the major streets and roads within the capital city of Abakaliki, to seek for means of livelihood no matter how menial it is.
Daily Sun survey revealed that some major roads and streets such as Akpofe Street along Old Enugu Road; Kpirikpiri opposite stadium; Ogoja Road by Vanco junction; Water Works Road opposite Mr. Biggs; the main gate of the permanent site of the Ebonyi State University, Ezzamgbo; and the rice mill at Onuebonyi junction, have been taken over by the job seekers who come out each day in the morning to make ends meet.
It is a common sight to see women and young people between the ages of 18 and 47 years with their shovels and tubs waiting along these major roads patiently for potential customers.
Daily Sun gathered that these people collect as little as between N500 and N1,000 as daily pay for their services such as bricklaying or helping hands in the farms of wealthy farmers.
The men always carry hoes, cutlasses, shovels and diggers ready to do any kind of job be it farming, digging or even construction works.
One of them who spoke with Daily Sun, Mr Nwali Umoke, a native of Agubia in Ikwo Local Government Area, lamented that the situation has called for more efforts to look for daily bread, adding that he hardly sees money to put food on the table of his family.
'We are suffering in the village and that is why I told my family to wait for me so that I will see if I can get money to feed them. My family is in the village and I came here to know if I can make some profit to feed them. Here, as you can see, has not even helped matters as we at times stay here from morning till night without anybody coming to engage our services because there seems to be a general problem in the economy of the state,' he said.
According to him, the issue of poverty has spread across all sectors of the economy of the state.
He pointed out that in the past many people were building houses and doing other contract works, but now the reverse is the case.
'We used to get jobs anywhere there was building construction going on because that time people were empowered by the state government and when people build houses we enjoy from it as we work for them to make our own money,' he said.
He blamed the persistent poverty they faced on paucity of fund occasioned by lack of employment which became worse with the ban on Okada business by the government, now leaving the youths with no other option than to engage in menial jobs to survive.
Also speaking with Daily Sun, John Nwode, a graduate of Sociology from the Ebonyi State University, but rides Okada for a living, lamented that since his graduation, he has been finding it difficult to secure a job in the state.
'I was among the people who applied for the recent employment in the state Civil Service Commission where they advertised for 880 job opportunities, but more than 5,000 graduates trooped up and that is to tell you the level of unemployment in the state. We cannot go into stealing or armed robbery, that is why I have said let me be doing this little work and wait on God to answer my prayers, but my greatest problem now is that the state government who obviously cannot give us jobs also does not want us to go freely on the roads as they have constituted manhunt against us on dual carriageways,' he lamented.
Also speaking with Daily Sun, Mrs Nwusulor Anyigor said that their hope only comes from God as they stay some days in vain without any respite coming their way, making them to return home without money.
'Not every day that we come here that we get a job, at times we go home empty handed; for instance, we have been here today since morning, but no work. Some of our members have left to their different places out of frustration,' she stressed.
Daily Sun also gathered that some shrewd businessmen are exploiting the opportunity by coming out late to engage the services of the people when they are tired of waiting and are ready to accept any amount.
According to Miss Ifeoma Nkwuda, who sells Okpa, a local delicacy at Akpofe Street, some people have cashed in on that to get the services of the indigent workers almost free by coming to engage them when they are already frustrated.
Her words: 'Some people will come when they know that these people are already tired and willing to accept even peanuts to ask for their services as some of them willingly accept to collect as little as N500 just to keep food on their table.'
When contacted, the state Commissioner for Economic Empowerment and Poverty Reduction, Mr Sunday Ogbuoji, however, dismissed the claims of the menial job seekers, arguing that the state government has taken bold steps to creat jobs to the people of the state.
Ogbuoji said the government had told individuals, communities, including women and youths to obtain forms to enable them access finances through the micro-finance banks.
He said that the state government is also looking at those individuals who are real entrepreneurs in the state like the artisans to utilize the gesture to expand their businesses.
'You see this is not a socialist state, the state we are running is not a socialist state, we advertise those who would want to come to us, and we expect that the person will use his ingenuity. Because when you continue to feed somebody you remove ingenuity from the person. When you begin to call on people, please come and collect, they will see it as government largesse, they will not see it as something they should use to increase their talent to become more productive,' the commissioner argued.