I WILL REVOLUTIONISE AGRIC, USING SHONGA FORMULA – GOV. SARAKI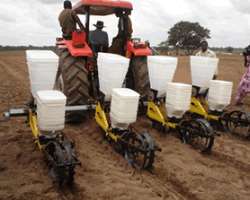 Shonga Farms in Edu Local Government Area of Kwara State, was born out of necessity. A child of circumstances of sort. It was not on the original card of Governor Bukola Saraki when he came on board in 2003. The original plan was Back-to-Land Project. And it was a campaign issue in the election. Yes! I happened to witness the funfare at which the programme was launched in the early days of the Saraki administration in 2003. It was meant to cover every local government in the state.
Then, what happened afterwards? Saraki explained to a select group of senior journalists late last week how the Back-to-Land programme became 'unworkable.' The encounter took place right on the Shonga Farms. Excerpts:
'We have broken the Shonga Commercial Farms into three sections, the dairy, poultry and mixed cropping.
Dairy
'Over the years, due to neglect of agriculture, Nigeria has been a country of powdered milk. Powdered milk is not healthy. If you go to America, it is a small percentage. You don't even see powdered milk in Europe. You don't see powdered milk in developed countries. If you compare the two, powdered milk is not as healthy as fresh milk. But because you cannot import fresh milk, that is why powdered milk became the alternative.
There is a law in Saudi Arabia. The country is not allowed to consume more than 10 percent of powdered milk. The remaining 90 percent is fresh milk. 'We have a mission here, to work with major importers. I must commend companies like West African Milk Company (WAMCO). They have stepped up. And they have displayed their commitment to be a serious partner of the Nigerian economy. They said they would be taken some of the fresh milk produced here at Shonga Farm.
'You may not know, we consume $1.5 billion to bring milk into the country every year, which can be produced here. It is a challenge to us. That is why we talk about new leadership. The need to re-address the agricultural sector.
'Apart from $1.5 billion we would save if we are producing this milk, do you imagine what it would look like if we have about 3,000 of this Shonga Farm scattered all over Nigeria? Here alone, they employ about 50 people per farm. If you talk about 3,000, it means you are already giving 150 people employment.
'Then you have factories processing the milk and you need about 100 of such factories at full production. We have about 600 cows at Shonga, that means you need 300,000 to meet the total demand. You have got to feed these cows. They need maize, soyabeans. You need farmers to produce maize and soyabeans for the cows. You are going to give people employment.
'If we have the right policy, which we are beginning to have. We can the importers a five-year plan. Today, we are only doing five percent locally produced milk, and 95 percent imported. Next year, let's go to may be, 15 percent, then following year 30 percent. Hopefully, within the five-year period, we will achieve our target. Once you have that in place, and it is abiding, it does not mean government intervention. It is going to be a business on its own.
'That is why today, the dairy farmers at Shonga are self-sufficient. They don't take anything from government, we don't give them any money. They produce their fresh milk, WAMCO would come with its trucks and take the milk to Lagos. The more that system works, the more WAMCO would increase. WAMCO is taking 1,500 litres of fresh milk from Shonga daily at the moment. This can be increased to 3,000 litres or even more. There are opportunities. We consume in Nigeria, 6.6 million litres of milk daily. Shonga is only producing 6,000 litres. See the gab! There is enough room for growth.
Poultry
'There is a huge market for poultry. There is an agreement with Kentucky Fried Chicken (KFC) to by all the chickens they produce. What has been the problem over the year is financing. It is still a long struggle. But, gradually the banks are coming around.
'The white farmers would complain about the banks, because the environment they are coming from, banks are more supportive. Banks understand them more. Here, things are slow and frustrating. But I have confidence that we will get there. Just as it worked with dairy, the banks gave them some money not long ago. By the time they start producing, things will get better. They have an agreement on the marketing with KFC. Soon, that business will also become self-sufficient like the dairy.
Mixed cropping
'We have cassava and we have no problem with that. The cassava is being bought by the Nigerian Starch Company in Anambra State. They take all the cassava. They too are self-sufficient. That is why the Shonga Farm needs no government intervention. It can sustain itself.'
At what point did you abandon your Back-to-Farm programme for Shonga project?
'Very early. I realized very early that the back-to-farm project, because of certain factors was not workable. The average Nigerian farmer is between 60 to 70 years old. What is his level of education? Is he a university graduate?
Did he ever go to secondary school? His he computer literate?
Does he know the latest technology in agriculture?
The answer is no. Can he walk into a bank and get finance? Even those who are educated and experienced, see the problems they encounter in getting finance.
'Subsistence farmers will only remain so. They have got to the limit level of their production. That is why we went for the commercial farmers. As the commercial farmers are growing, the local farmers will be carried along. The local farmers employed by Shonga Farms will tell you they have learnt many useful methods from the commercial farmers. They have seen that by learning the practice of those white farmers, their production too would go up.
'For example, the local farmers are helping to supply maize for the cows at the dairy. This is part of the multiplying effects on the smallscale farmers. It is another way to help the smallscale farmers grow. What we did with the back-to-land was to give all the support to the farmers. The farmers have their limitations. They did not give the expected results. But this new method has a better chance of improving the productivity of the farmers and it is working. The two will go hand-in-hand.'
Using Shonga Farms to front for Saraki?
'It is just an example of the kind of society we have in Nigeria. If not some of us are committed to what we believe in, we could have abandoned this project a long time ago. This agricultural policy is not a vote winning project. It is not what you plant today and see the result tomorrow.
'If you want to win votes, you can go and build something and everybody will clap for you. If you don't believe in what you are doing, you can't achieve anything. No politician will sit on a farm and work closely with the people if not because of what he believes in.
'Our people are very suspicious. They believe all our leaders are bad. They would say how can the governor sit with them on a farm, if it is not his own? But this is what I believe in. I always say it, one day you will remember one man told you, if Nigeria is to move forward, you must get agriculture right. Follow Bukola's way or another way, but you must follow this agriculture.
'I have come up with a method, a pathway. I challenge anybody else to come up with his own pathway. But you just criticize for the sake of criticism, and Nigeria will suffer for it.
'What we are doing at Shonga Farm is not for any personal gain. We are doing it for the future of this country. There are 10 wards in Edu Local Government. Shonga has two wards. Today, the business generating from this farm, is larger than the entire allocation of the local government. There is a case of a Fulani herdsman who earns N150,000 every week. He was nobody before now.
'These are realities. But people try to play politics. That will not detract people like us. The reality is that this project has changed the lives of the people for the better. The Shonga today is not the same Shonga five years ago. The people will tell you how it has impacted in their lives. The farmers are still doing their local farming, learning from the commercial farmers.
'That talk about fronting for Saraki is unfortunately part of the Nigeria we operate. That is why it requires courageous, bold and committed minds and we don't allow things like this to disturb us. WAMCO, a serious company, will not come all the way from Lagos if there is no production at Shonga.
'Let us do this in other parts of Nigeria. Let us stop spending $1.5 billion every year importing milk when we can produce milk. We have done Shonga here, let's have it in other parts of the country. By doing that, the country will be better off for it.
'Certainly, I am going to do it at the national level if elected president. It is very realizable. It's more difficult to do this in Kwara State than the whole of the country. The success of agriculture is the policy and its implementation. All the difficulties we are having here is because of policy. The policy of financing and policy of demand. If I become president, I will have policies that support local production. We will have policies that we make banks support the farmers.
'Majority of the importers of milk, with the right environment and incentives, will say 20 percent of our products, I will no longer import. I am ready to buy locally. We have done it in Kwara, given the opportunity, we can do it in the entire country.
'I keep on saying, if we talk about Nigeria's economy moving forward, and you don't talk about agriculture. It is either you don't know what it takes to move the economy forward, or we are not being sincere. The number one policy to move the Nigerian economy forward is agriculture. It has to be agriculture, agriculture and agriculture.
'With agriculture you have achieved two things. One, you have food security. Two, you have employment. Agriculture must be the one to drive our economy. That is what is required at the national level. And that is what I am going to do.'