THIS IS NOT THE ROAD TO FREE, FAIR POLLS – ATIKU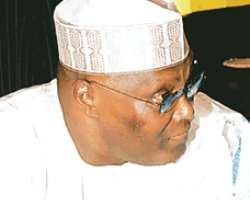 Former vice president and presidential aspirant of the Peoples Democratic Party (PDP), Atiku Abubakar has warned that the much touted free and fair elections in 2011 is at risk if the emerging tactics of intimidation of political opponents is allowed to prevail.
Atiku gave the warning yesterday while reacting to the reported attempt to disrupt a legitimately organised Igbo political stakeholders conference scheduled for Owerri.
He condemned the shabby treatment meted out to Igbo patriots including former vice president, Alex Ekwueme, former senate president Ken Nnamani, former governors Chief Achike Udenwa and Dr. Sam Egwu, Prof ABC Nwosu, Chief Dubem Onyia and Senator Ben Obi, among others that compelled them to hold their conference in the open air under the sweltering sun.
The former vice president, who condemned the action in the strongest term said the harassment of dissenting voices was inconsistent with the 1999 Constitution as amended and the PDP Constitution, which guarantee's freedom of association and assembly.
'This certainly is not the road to a free, fair and credible election in 2011 but a familiar road travelled. This may lead to increasing doubts about the commitment of the present administration to conduct elections that would command respect and acceptance.
'The 1999 Constitution as amended and the constitution of our great party, the PDP, have enshrined the rights of Nigerians to freely meet, associate and exchange ideas. Under no circumstance must that right be compromised,' he said.