HE'S AN OPPORTUNIST – IBB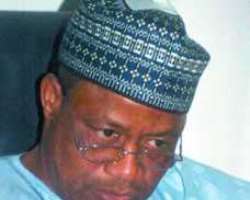 Reacting to the position of the President that the presidency was never zoned to any section of the country, former military president and PDP presidential aspirant, General Ibrahim Badamasi Babangida accused Jonathan of being economical with the truth.
Babangida who spoke through the Director of Media, IBB Campaign Organization, Prince Kazeem Afegbua referred President Jonathan 'to the meeting of the expanded caucus of the PDP in 2002, in which 47 persons, including President Jonathan, then Deputy Governor of Bayelsa State voted out of 51 persons present, that zoning should be the order between the north and south.'
The statement said further:: 'At that meeting, President Jonathan was number 34 on the attendance list. We also refer the president again to Section 7.2[c] of the party constitution which is still subsisting.
All these were steps taken to maintain stability and unity of the country. Anyone who tries to be opportunistic by saying there was no zoning lacks integrity and honesty of a true leader.
'Those who are crying foul over zoning today are beneficiaries of the formula . It is bad and wicked politics to change the goal post at the middle of the game. It is unfortunate that politics has generated into this mindless bubble and reducing leaders to mere liars in the face of opportunism.
It is a shame, a big shame,' IBB submitted.