Ije, the Journey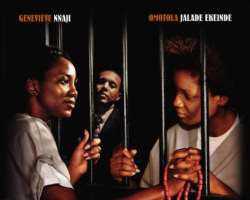 No publicity is bad publicity. I am here to praise Ije and condemn the filmmakers. I watched the first 20 minutes and had to leave. I could predict the entire movie so I was not hurt to leave. Don't get me wrong. I am dying to watch the rest. i had to leave because I had a flight to catch from Lagos to Senegal. Yes. I am enjoying my graduation, touring countries in Africa and doing a small hand held camera work on cultures.
I have read many reviews that have called Ije the standard setter. The young filmmaker herself called her NYFA Thesis film the first Hollywood Movie of Nigeria. What an insult to Nigerian filmmakers. I doubt Chineze wants to start her career by making enemies in an industry she CAME TO MEET. I have read many comments that share my anger.
For clarification, Ije came to meet the Nollywood revolution and is one of those movies that will be included in the revolution. It did NOT start the revolution neither is it a pacesetter. It is rather a desperate attempt to get noticed by Hollywood from Chineze and the rest of the crew and cast excluding Genevieve, Omotola and Clems. They already have their fame. The movie painted Nigeria is such an ignorant light, and tried in every way to make the black man the victim. so cliched!! At least, it won 8 awards from unknown festivals and that is always a start. I am not hating on Chineze. I am telling her to put a stop to belittling Nigerian filmmakers because she was lucky enough to have NYFA student benefits extended to her, plus family money to go make a good movie.
I want to draw her attention to Jeta Amata. Who made the first bonafide Hollywood movie Amazing Grace. He has made another called Black Gold with Billy Zane of Titanic fame. Other filmmakers have used real Hollywood stars like Billy Zane, Nick Moran, Jimmy Jean Louis, Hakeem Kae Kazim, Caroline Chikezie etc. I can also remember the movie Secret laughter of women with Nia Long which started the likes of Joke Silva.
How then is Ije the movie all these people must emulate? Have I forgotten to mention ground breaking, box office breaking movies like Through the Glass from Stephanie and The Figurine? So Ije with is struggling thespians cannot be anything Nigerian filmmakers need to follow. It is not a Hollywood Film. It is a Nigerian Film.
Pride goes before a fall. These filmmakers she is disparaging have struggled against odds of making movies in our substandard industry and yet have managed to make good films. She was surrounded by school professors and a 99% American crew and 80% American equipment. No struggles to find equipment or crew who know what to do.
I would like to see how she fares by working alone in Nigeria. No Paula Moreno to produce and no Kevin Smith to DOP. Just use resources in Nigeria, race against Nigerian time and lets see what happens.
Ije should be marketed with all the aplomb, but do not make it larger than life because there is nothing special about it. it is nothing Nigeria film industry had not seen before. It is least the African Film industry has seen compared to the likes of Gaston kabore, Sissako and Darrel Roodt.
Genevieve looked damn good in the movie, not sure why they made her talk like some illiterate Nigerian, (insulting if you ask me), she is a banker, in Nigeria, why should she be naive?
Regardless of the predictability of the piece, its naivete nature and factual errors, Ije is very entertaining and beautifully shot. Try and watch it!!
jeta Amatas black gold.