EDE CELEBRATES AGBALE HALL OF FAME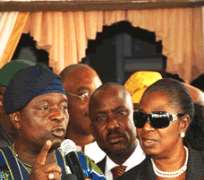 Ede, an historic town, in Osun State, South-West, Nigeria is set to celebrate its first ever Agbale Hall of Fame. A scheme, that was designed by Timi-In-Council and Federal Council of Ede Descendants Union, under the able leadership of Barrister Dele Adeyemi, to honour its citizens that have contributed one way or the other to the development of the community at one time or the other.
Ede is a community of resilient citizens, who take the destiny of their fatherland firmly in their hands. A community of selfless and dogged achievers in their own right. Oba John Adetoyese Laoye 1, of blessed memory, during his famous reign took the ancient town on international excursion, with his dexterity, prowess and wizardry at the talking drums.
He was in Brazil, United Kingdom, South Africa and U.S.A, where he and his retinue, performed brilliantly to the applause and admiration of their various hosts. Oba Laoye, with the talking drum composed the evergreen signature tune….. 'This is Nigeria Broadcasting Service' for the defunct Nigeria Broadcasting Corporation, now Radio Nigeria. He worked relentlessly to put Ede in international limelight.
The reigning monarch, Oba Munirudeen Adesola Lawal, Laminisa 1, has been giving a good account of himself since assuming the mantle of Obaship. Baba has been going round the nooks and crannies of the country, counseling Ede indigenes to return home and contribute their quota to her progress. The effort is yielding the desired positive results. Old and dilapidated buildings along the Station Road are giving way to modern ones with architectural masterpiece.
Our once source of pride - THE QUEEN's SCHOOL, which was 'maliciously' transferred to Ibadan during the tenure of Major - General Adeyinka Adebayo (rtd) as Military Governor of Old Western Region, has been compensated for with the establishment in 1991, of a Federal Polytechnic, through the grace of God and instrumentality of General Ibrahim Babangida, at the prompting of our own illustrious daughter, Hajia Ramota Omotayo Adisa and the support of her late husband - Major General Abdul-Kareem Adisa. Ede indigenes at home and in diaspora, shall forever be grateful to General Ibrahim Babangida and his late wife, Maryam, for this singular gesture.
As if waiting in the wings, the Redeemed Christian Church of God (RCCG) under revered Pastor Enoch Adeboye, some few years ago, announced very merrily, the establishment of Redeemer's University for the Nations at Ede, under divine instruction. But years on, this is yet to take root at Ede. It is, however, better late than never as Ede Community is eagerly waiting for the take off of R.U.N. at its God appointed destination, as no word of God shall go unfulfilled. Over to you sir, Papa Adeboye.
Since self help is the best help, the Adeleke Dynasty has swung into action in elevating the educational status of Ede with the promotion of the establishment of ADELEKE UNIVERSITY, which by God's grace, shall soon be licensed by N.U.C. The UNITY UNIVERSITY promoters are also not leaving any stone unturned, in ensuring that the project sees the light of the day.
Ofcourse, the NYSC Orientation Camp at Ede, has continued to enjoy the rating of being the best camp in the country. We remain grateful to Governor Olagunsoye Oyinlola's administration for making this possible. Our brothers in army uniform - the men of Engineering Corp Regiment are also having the best of time in Ede town since they berthed there in 1966. The traditional hospitality of Ede people was never lacking in making indigenes and non-indigenes co-habit peacefully.
On the industrial front, the multi-million naira Cocoa Processing Industry (CPI) commissioned for business in 1981 by the late Bola Ige government, should be given a very good attention that it deserves to survive. This veritable source of foreign exchange earning for the economy of Osun State, has been comatose for about ten years. If what we see as rejuvenation of the factory, currently embarked upon by a Chinese company is anything to go by, perhaps, there is light at the end of tunnel for the ailing industry, to bring back the once sweet aroma from cocoa butter, cake and powder from the industry and return hundreds of workers to employment. We hope this time, nobody is pulling wool over our eyes in resuscitating this promising industry one and for all
The Oje Elerin Market, which functions every 17days and has contributed to the growth of textile commerce (Aso Ofi) in Ede town, has gone to 'sleep'. Its functionality like in years past, deserves the attention of those concerned, to make it come back to life and complement the five-day interval consumables markets (Oje Olonje)
Clarion call should go to politicians in Ede to practice politics without bitterness in the forthcoming 2011 general election, while the electorate should ensure, that only the best candidates are good for our elective offices. We are lucky to have produced the first Executive Governor for Osun State in person of Senator Isiaka Adeleke as well as a performing, articulate and brilliant Speaker of the State House of Assembly for two consecutive terms-the Rt. Hon. Adejare Bello. We should therefore continue to excel politically. We should consolidate on our gains.
As Ede celebrates her first AGBALE HALL OF FAME, it is set for the challenges of the 21st century. The maiden awardees are enjoined not to look back in continuing to make their impacts truly felt in this community of geniuses. They should do more for the society, that has deemed them fit for the rare honour. All of us have no other town to call ours other than Ede. Home, sweet home. Happy Agbale Hall of Fame celebration.
Olumide Lawal, Crystal Villa, Ede, Osun State.