IBB Under Pressure To Quit Presidential Race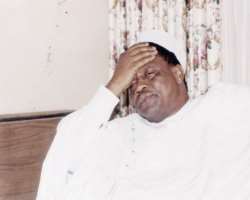 PHOTO: FORMER MILITARY HEAD OF STATE AND PRESIDENTIAL ASPIRANT, GENERAL IBRAHIM BABANGIDA.

San Francisco, Sept 26, (THEWILL) - Strong indications emerged weekend that former military dictator, General Ibrahim Badamasi Babangida, is under intense pressure from both within and outside his home to quit the presidential race billed for 2011, THEWILL learnt from a source close to Babangida's family.

Pressures from some family members and those from the elders of the north have weighed heavily on Babangida to soft pedal on his campaign to enable a consensus presidential candidate emerge from the north following several nocturnal meetings by northern elders led by Adamu Ciroma, the Arewa Consultative Forum (ACF) and Northern Youth Assembly (NYA).

THEWILL gathered that Babangida's relatives who have started seeing the unfavourable rating of the former military leader have targeted the NYA to put pressure on him, having advised him (IBB) to drop out unsuccessfully. A delegation from the NYA, according to our source, had last week visited the aspirant at his Minna country home to ask for his withdrawal from the race with the view that his chances of emerging as the consensus candidate of the north is very slim, and that Babangida would divide the north further knowing that he would not abide by the decision of the northern elders if he is not chosen as the north's consensus candidate.

Checks have also revealed that the Northern elders on their part are not comfortable with the avalanche of PDP presidential aspirants emerging from northern axis. The elders see the development as a spoiler to their plan to present a consensus candidate to battle president Goodluck Jonathan at the PDP primaries. Apart from Babangida, Atiku Abubakar, Governor Bukola Saraki and Mohammed Aliyu Gusau, are the major contenders from the north for the seat.

It was gathered that it was this development that prompted some Northern elders to pressure former National Security Adviser (NSA), General Aliyu Gusau Mohammed not to join the race.

THEWILL source revealed that General Gusau had vowed that if Babangida continues in the race, nothing would stop him from contesting because past "agreements" between IBB and him had been breached by the former.

Investigations by THEWILL also showed that Gusau had planned to rule the country after the exit of IBB and Abacha but Abacha truncated that plan when he moved for Gusau's retirement from the army as soon as Chief Ernest Shonekan's Interim Government was inaugurated. Gusau's attempt again in 2007 failed to receive IBB's support and encouragement, instead, IBB too joined the race before Obasanjo checkmated him when he anointed the late Umaru Musa Yar'Adua. Gusau again blamed IBB for his failure to cash on the opportunity.
The last straw that broke the camel's back was the marriage between Babangida's daughter, Hajiya Aisha to the current Governor of Zamfara State, Alhaji Aliyu Shinkafi without the knowledge of General Gusau. Governor Shinkafi's wife is a niece to Gusau and should naturally have been made the first lady of Zamfara but IBB's daughter was favoured as first lady in Zamfara, a development that Gusau does not like.

Interestingly, Gusau had last week told the Northern elders to ask IBB to withdraw from the race if the north actually wants to make any headway in next year's presidential elections.

The current calculations so far has thrown the Babangida camp into confusion as even attempts by the Director General of the IBB campaign Organisation, Chief Raymond Dokpesi to convince teeming supporters that his principal was much in the race was not taken seriously. Dokpesi is still canvassing the much touted zoning for his principal, a move the PDP had already thrashed, a top NEC PDP member confided in THEWILL.

Feeling the pressure being put on him from several fronts, Babangida on Thursday told a visiting delegation of Nigerians in Diaspora at his Minna home that becoming a President was not a do-or-die affair and that life continues whether he wins or loses the Peoples Democratic Party Presidential Primary election.

"For me politics is not and has never been a do or die affair. If I lose, I lose and if I win, I win: such is life and life continues," Babangida said, stressing that he is in the race because he loves the country.

Babangida spoke against the backdrop of reports that about 27 PDP Governors contributed N11 million to purchase nomination and expression of interest form for President Jonathan.

As at the time of going to press, efforts to get the IBB campaign Director of Media and Publicity, Kassim Afegbua to confirm some of these reports proved abortive as his phones were switched off.