DELTA IS LIKE A ONE-PARTY STATE – ENGR JOHNSON AJEBOGHUKU, MRDD CHAIRMAN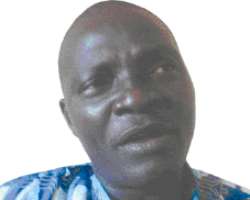 What is your take on Delta State politics?
For quite some time, Delta State has been more like a one-party state. But this time round, the government of the day has strived to actually carry along other parties. And we, the other parties, are rising up to the occasion now to face the challenges ahead, which is the enthronement of true participatory democracy. However, quite a number of the political parties in Delta State are in solidarity with Governor Emmanuel Uduaghan. We have about 35 political parties on ground in Delta State and 30 of them are solidly behind or in support of Uduaghan.
Is MRDD supporting Uduaghan?
Yes. We have an understanding or partnership and so far, he has not given us any cause to decide otherwise. So, we are continuing with the partnership and we believe in continuity because he has laudable policies and programmes. His policies and programmes are actually geared towards the grassroots.
Despite the challenges that he has been facing, he has been implementing his policies and programmes efficiently. We feel that with the much he has done, if we give him a second term, he will build upon the foundations he has laid. And Deltans will be in a better position to enjoy the infrastructural development, his agenda on peace and security, among others. Of course, he is one of the leaders that brought about the peace concerning the Niger Delta militants culminating in the amnesty programme.
As I said earlier, Uduaghan has really tried to carry other political parties along. It has never happened in Delta State to see a governor that carries members of the opposition parties along in terms of giving them donations and grants with which they run their offices and as well give appointments to them. He is someone that proves that government should be all-embracing and we appreciate it. Of course, it is not that we do not criticize the state government. We criticize constructively and we advise. We have no cause to say that we are withdrawing our support because he has not delivered and we are supporting him to the end.
Sir, you sound like someone who has been bought over and will not field any candidate against Uduaghan in 2011.
No. Let me make some clarifications. First, it is not compulsory for every political party in a democracy to field candidates. What is election all about? It is about installing credible government. But when you have a situation where you see what the present governor has done, why would I waste my time and energy in fielding a candidate that I know will not go anywhere?
Again, we have to understand that in Nigerian politics, electioneering is capital intensive and most parties have the problem of funding. So, you can never get a level playing field because most of the other parties cannot muster the kind of funds available to the ruling party. Why would I waste my time when I know I cannot effectively challenge? But that is only for the gubernatorial election. My party is fielding candidates for election at other levels. As far as the governorship election is concerned, the party has taken a position and, I, as the chairman, can speak for the party. We have taken a position that on Uduaghan we stand.
How do you compare the Ibori government with Uduaghan's?
To be frank, I feel that there was a lot of fiscal irresponsibility during the past dispensation but with the Uduaghan government, it has not been business as usual. That is why you have a lot of people criticizing him even within the PDP. Delta is the first state to sign into law the Fiscal Responsibility and Public Procurement Act. If you go round the state, you will find out that it is not business as usual.
There is no fiscal rascality anymore. Uduaghan is a prudent man. He believes that whatever resourcess comes to the state should be utilized to serve the interest of the people. The various people- oriented projects embarked upon by the Uduaghan administration, the free maternal care scheme, employment of over 2000 teachers and payment of the WAEC and NECO examinations fee for students are pointers to the direction of the present government. In the past, it was not like this. That is the difference.