CULT WAR CLAIMS 5 POLY STUDENTS IN AUCHI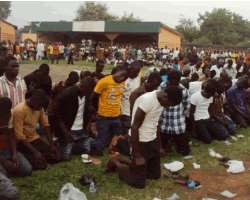 The battle for supremacy by rival cult groups has led to the death of five students of the Auchi Polytechnic in Etsako West Local Government Area of Edo State.
Reliable sources in the institution told the News Agency of Nigeria (NAN) on Saturday in Auchi that the killings took place within the last two days.
The sources also told NAN that the killings had forced many students to flee their hostels for safety.
Three of the dead students were said to be in the second year of the National Diploma part-time programme, while one has just rounded off his final programme in ND.
One of the students, who had just finished his ND Civil Engineering programme, was allegedly dragged to the Mechanic Village along the Okene/Auchi/Benin highway where he was killed on Thursday night.
The sources said that the killings had been linked to a battle for supremacy between two cult groups, the Neo Black Movement (Black Axe) and the Maphites. The Police Area Commander in Auchi, Mr Andy Amiengheme, confirmed the killings but said that only three of the killings had been reported.
Amiengheme also said that no arrest had been made in connection with the killings, and that the police had intensified patrol of the troubled areas.
He said: 'All I can tell you is that it is a power squabble between two rival cult groups in the polytechnic and it all started on Wednesday night. 'We were called on phone and told that something was happening and it turned out to be the Maphite and Black Axe trouble.
'The killings took place in the Mechanic Village and another one at a hostel at Sabo in South Ibie.
'While this was happening, we heard about another one at Sabo. This was rather strange as the boy was shot through his door as he was about opening it.
'We have intensified patrol and making efforts to ensure that the perpetrators are brought to book. We are doing this in collaboration with the vigilance group in the area.We are placing more emphasis on the areas the students live. However, we discovered that many of the students have left the area.
'These are future leaders, who were sent to school to learn, but are busy killing themselves. They have no value for life and it is rather unfortunate.''