'Tribal Romance Revisted': Zed-Eye Spring/Summer 2011 Collection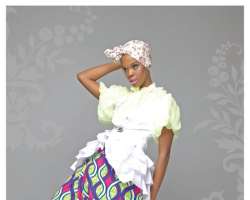 Zed-Eye showcased its Spring/Summer collection; "Tribal Romance Revisited" at the recently concluded London Fashion Week Catwalk Show.
For accountant turned uber talented designer Ngozi Pere-Okorotie who has had her pieces worn by celebrities including Kelis, Shingai (The Noisettes), celebrity hairdresser Tara Smith and renowned British designer Henry Holland, the collection is a return to her earlier collection; "Tribal Romance".
Zed-Eye on "Tribal Romance Revisited" :
"The Collection is a rich combination of textures, colours and silhouettes in which acid bright silks, chiffon, and romantic shapes are effortlessly combined with vivid patterned ethnic prints. These opposing elements come together to create a dazzling collection of juxtapositions seemingly wooing each other into courtship.
Flashes of current trends are evident throughout the collection with slouchy trousers, high waisted skirts, structured dresses, and Zed- Eye's signature jackets adapted for the summer. The Zed-Eye signature styles remain very evident and this collection is on set to transcend times and trends alike.
The line up is classic with lashings of character oozing through with materials, colours and textures that flirt, dance, clash yet complement each other. This titillating collection is a flirtatious love dance of high style, skill and fantasy"
I love the colours and textures and how she uses it to create a dynamic fusion of soft romantic fabrics, frill details and the Victorian love affair to something a lot more raw, authentic and visually captivating like the African print. The collection offers great 'stand- alones' and fashion-forward clashes.
View "Tribal Romance Revisited" below: