OPEN LETTER TO DR GOODLUCK JONATHAN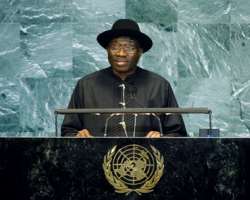 PHOTO: PRESIDENT GOODLUCK EBELE JONATHAN ADDRESSING THE UNITED NATIONS GENERAL ASSEMBLY IN NEW YORK ON FRIDAY.

OPEN LETTER TO DR GOODLUCK JONATHAN
Dear Dr Goodluck
I am writing to congratulate you on the massive success achieved at your declaration to vie for the presidency of our great nation. The unprecedented crowd showed the love those of us ordinary Nigerians have for you, your humility and your style of leadership.
Some of now really believe that Nigeria's problems can be solved with a good leader like you leading. By this time last year we never imagined we could buy fuel freely and black market wiped out for good. In just four months you sold that misery and fuel is free flowing like water in our lifetime once again.
The purpose of this my letter really is to tell you that the myth called Northern Nigeria is dead. It died as far back as 1987 when the Kafanchan crises occurred during Babangida's military maladministration and it was finally buried in Zango Kataf in 1992. The 40 days prayers were conducted in Jos in 1994 and since then ever since.
The perennial crises in the North every year tells you that one north is a myth. What we have on ground is the middle belt and the far North. Even the far North is divided, that is why they have the Northern Union and the Arewa Consultative Forum (ACF).
All these guys like Adamu Ciroma, Yahaya Kwande, Tanko Yakassai are failed old politicians who are seeking relevance at all cost. All the brimstone and fire they are threatening is just a hoax. The North cannot afford to break away from Nigeria. Gideon Orkar gave them that chance on a platter of gold and they rejected it.
They are consciously aware of what is happening to their kins and kith in NigerRepublic where famine is ravaging like wild fire.
The North depends on the middle belt and the South for food and petroleum products. Dr Babangida Aliyu summed up their thoughts at your declaration when he said all they are afraid of is the Northern Cameroon type of treatment. But break away from Nigeria that is the last thing on their mind. Even during the so called Northern Governors Forum you would have noticed that it is just a marriage of strange bed fellows who must co-habit for the sake of the petro-dollars from the Niger-delta region.
The crowds that have witnessed your declaration should give you assurance that the whole country is behind you. Middle belt of Nigeria is 100% behind your aspiration and will never be behind the northern plan to disintegrate Nigeria. We will rather go with the South where we have more in common with. Do not be deterred by the ranting of these expired and failed politicians. It cannot be worst than Boko Haram of July 2009.
Please listen to the voice of reason of objective people like Alhaji Bamanga Tukur, Dr Hassan Adamu, Sani Kontagora, Mustapha Jokolo, Ndiameeh Babrik, and Governor Isa Yuguda of Bauchi State.
Dr Goodluck Jonathan, No Shaking!
Ndiameeh Babrik is at [email protected]
Disclaimer:

"The views/contents expressed in this article are the sole responsibility of the author(s) and do not necessarily reflect those of The Nigerian Voice. The Nigerian Voice will not be responsible or liable for any inaccurate or incorrect statements contained in this article."
Articles by thewillnigeria.com