PEOPLE CALLED ME 'MAN' BECAUSE I DIDN'T HAVE A CHILD AFTER 8 YEARS OF MARRIAGE – IREDU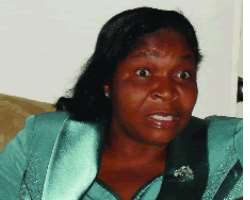 Rev. Mrs Nches Iredu is the President of Sisters Fellowship International (SFI). SFI has branches and many outreach centres all over Nigeria and Europe. Recently, they had their annual programme, September to Remember. Thereafter, the team paid a visit to Spinal Cord Injury Association, Amuwo Odofin. Their visit to the centre brought joy and relief to the victims as they presented 12 wheel chairs, loads of food items and N250, 000 to them.
This amiable woman of God in an interview recently said she's elated that God in this generation has decided to make her an instrument in His hand. The brief encounter with her was so revealing as she went down memory lane about her eight years of barrenness, the humiliation she encountered and how that issue turned to be a stepping-stone to her ministry.
Early Life
I loved God and got born again very early in life. God blessed me and I got married to my husband and we wedded. Normally one expects that immediately after the wedding the next would be to have a child, but after eight years, there was no issue. It's not always wonderful because in this our present society, especially in Nigeria, people always attach too much importance to child-bearing. They feel once you don't have any child, the marriage is not yet complete. Having lived a righteous life as a child of God in my youth, I thought that soon after my wedding, babies would start coming. Sometimes some people think that people who lived all kinds of life, for instance, committing abortion, are people that are victims of infertility. I never knew that kind of thing would come my way.
Within the eight years, I had the opportunity of travelling to the UK, Birmingham University to do my first and second degrees. I decided to go and study since babies didn't come, and at the same time believing and trusting God that something would happen one day.
Miserable comforters
It was not easy for us. Friends and in-laws were asking questions why I had not been able to have a child. They asked my husband whether he was sure he did not marry a man. They wondered why my husband would continue to keep me when I could not have a child since it is the essence of marriage.
People talked. There was nothing they didn't say. They called me a man but I kept trusting God because I know that He is more than able and will do it for me. And I had this song people knew me for which I always sang. It says, 'I have a God who never fails'. Somehow, I have an inner witness in me that God must answer and give me a baby someday.
Life in UK
When I got to Birmingham University to continue my study, we had this mini fellowship we attended called Nigeria Christian Fellowship. It used to have many people in attendance. Before that very time, I fasted for seven days. I waited on the Lord and decided to settle some issues with Him. I had this upholstery chair that was in my room which I believe that my God used to come. Each time I go to worship in that room I always felt His presence. One day after fasting for seven days, I said God that we would settle one thing. Why do people worry themselves if they don't have any issues? And I started thinking about it. Is it not for somebody to call them mummy, and secondly for somebody to take care of them at their old age?
As far as I'm concerned, these are the two basic things that make people to feel bad if they don't have any child. If that is the case, why should I even worry myself, after all I read the story of Florence Nightingale. She's not being remembered by any child she gave birth to and the number of children she had, but for what she did for her generation. I learnt about Mary Slessor. Hers is not how many children she had or what her children did but she is being remembered today for her contribution to her generation. I then told God that children or no children, I would want to be remembered for what I will do for you. I asked God to make me useful in my generation and let me do something tangible for Him. Let me make impact in the world. I told God that even if I don't have any physical children, may God give me spiritual children.
Let me move about all over the world winning souls for Him. And the very country that came close to my heart was Chekoslovakia. I told God that I would go to Chez and America, winning souls for Him, even if it's joining evangelical team like Morris Cerrullo, Billy Graham, or Reinhard Bonnke. I asked God to make all these children I would preach to, to receive Him as their Lord and personal Saviour. Cause them to turn around and call me mummy. If you make them to start calling me mummy, it means they will equally call me mummy when if I go to Chez, Canada, UK, Cote d'Voire, Nigeria, and I will have so many children everywhere. I told God that not only will they call me mummy but to also love me more than physical children love their mothers. That if it pleased Him to grant me long life, He should cause them to love me and take care of me at my old age. If you do this for me, I will be very grateful. By the time I finished all these prayers, my heart was pacified. It became clear to me that God heard me. I had peace and was happy.
Miracle day
Life went on. One of the days, we came together in a fellowship we had in Nigeria and people were asked to make prayer request. We were asked to come out to the centre and make a prayer request and the rest would help to pray. It was the day to pray for prayer warriors. We had been praying for people, that day was the turn of all the prayer warriors. People were coming out turn by turn with their prayer request and others would join to pray. When it came to my turn, I came out with that song, 'I have a God who never fails'. I sang the song with every certainty and assurance, and tears filled my eyes.
As I kept singing, the atmosphere changed and something started happening, which I couldn't understand. The glory of God came down that day and people started speaking in tongues. I had not tabled my prayer request but the Holy Ghost overtook me. One person came out to prophesy that my matter was settled and that I should watch out and see. So also another person prophesied that I would have a child about that time next year. Yet another prophesied that not only would I carry a baby but would carry a baby boy. This happened on April 28, 1983. After that, we all left. About that time the following year, God did as He promised and I became pregnant.
Dream comes true
When I took in it was like a dream. Every blessed day I cried, but it was a cry of joy. Each time I kept thinking whether it was a dream or reality. Sometimes, I would go to mother care shop to buy clothes for the unborn baby and each time I went there, I would pick the dress and start crying. It was tears of joy. On the beautiful day, the baby came forth and lo and behold, he was a baby boy. My joy knew no bound. Six months after delivery, I could not sleep. I cried so much that some people who knew me became worried about it. I couldn't hold my heart. Our fellowship leader would tell me to pray for anybody with infertility problem. As I lay my hands on them, he would place his hand on top of my hand and many women gave birth. After a while, God blessed me with two more children.
Coming to Nigeria
I started working in a school and I began a fellowship there for the staff during break period. We called it staff fellowship. And from there we discovered that the venue was not spacious enough for us and we decided to be meeting after school. People came with their neighbours and friends. When we saw that many women joined, we had to change from staff fellowship to sisters fellowship. From four converts, we grew to 300 women and from there we started having chapters all over. We have chapters in Enugu, Benin, Nasarawa, Aba, Umuahia, Port Harcourt, South Africa, Cote d'Voire, Ghana, Lome, Cameroun, America, London and we are opening some zones in other countries.
About SFI
Our mission is to bring souls to the kingdom of God. We organize couple dinners. I wrote this book, Marriage Could Be Exciting, Cry No More. Women are character moulders. They have influence in the family. We visit women in the prisons and send them daily devotions and beverages. We also go to motherless babies homes. This ministry is built on love. Where there is love, there is peace. We also take care of old ones and widows. We visit the blind and the destitute and give them food and clothing
Things you cannot wear
I believe in modesty when it comes to dressing. I feel that anybody can wear what she wants, provided it brings glory to God. I don't support anything that does not give God the glory because I live my life for God. There are some kind of dressing someone would wear and you will know that the person is ready to seduce people unnecessarily. The worst is calling yourself a married woman and you wear a dress that will make a man to start having an urge because of the way you are dressed.
If somebody wants to be naked, let the person be naked completely. I don't believe in deceiving people. Dress in a way that anybody that sees you will see the glory and beauty of God in your personality.