DOSUNMU: PDP WILL LOSE YORUBALAND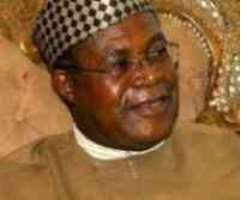 PDP National Chairman, Okwesilieze Nwodo
The crisis rocking the ruling Peoples Democratic Party (PDP) in the South West region of the country could undermine the electoral chances of President Goodluck Jonathan and other presidential aspirants under the platform of the party in the 2011 elections, Second Republic Minister of Housing Dr. Wahaab Dosunmu said in Abeokuta, Ogun state yesterday. He spoke at the inaugural meeting of the President Goodluck Jonathan Campaign Council. Dosunmu's warning was apparently prompted by the absence of former President Chief Olusegun Obasanjo, Speaker of the House of Representatives Dimeji Bankole and other top Yoruba PDP leaders from yesterday's meeting, which was chaired by the Southwest Campaign Co-coordinator of the President Goodluck Jonathan Campaign Organization and governor of Ogun State, Otunba Gbenga Daniel. Both Obasanjo and Bankole are sworn political enemies of Daniel.
Dosunmu, who pointed at the lingering intra-party squabbles in all the PDP states of the Southwest except Ekiti, warned that except urgent steps were taken, the elections in 2011 could be a disaster for the party.
'If all of us are going to be on board and the party is going to have any chances in the Southwest, those who had been edged out should be brought back to the party. If we fail to do that, we are heading for failure.'
Dosunmu, whose statement evoked silence at the Government Valley venue of the meeting, also said the party could not pretend that all is well with it. He said, 'if the crises are not nipped in the bud, there is going to be a problem.'
The former minister also used the occasion to draw the attention of the governor to the perceived marginalization of other states in the emerging leadership of the zone, saying that the crucial positions had always gone the way of Ogun State.
According to him, 'Chief Obafemi Awolowo, M.K.O Abiola, former President Chief Olusegun Obasanjo had all been leaders of this region at one time or the other. Now we have the governor of Ogun State.'
The absence of key leaders of the party at the inaugural meeting, Daily Trust learnt, further indicated that all was not well in the zone. A source close to the party in Abeokuta told our correspondent that 'such inaugural meeting should have had in attendance Baba (Obasanjo), Speaker Bankole and other leaders in the region.
'Since we are for Jonathan come 2011, nothing stops such meeting from having all well-wishers and leaders at the opening ceremony- there should have been a formal opening ceremony where Baba should have tasked the committee on the support for the president. This did not happen.'