EX-MINISTER OGBUEWU DUMPS PDP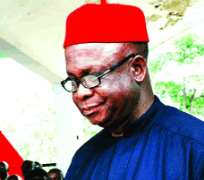 Ex-minister of culture and tourism, Frank Ogbuewu, has resigned his membership of the Peoples Democratic Party (PDP), citing lack of internal democracy and the adoption of Governor Martin Elechi as the sole governorship candidate of Ebonyi State PDP for 2011 elections as the main reason for his resignation.
Though the former Nigerian ambassador to Greece did not indicate the party of his next destination, it is, however, believed that he has joined All Progressive Grand Alliance (APGA) to contest the 2011 governorship elections in the state. In the letter of his resignation which he addressed to the chairman, Ndiufu Amagu Ward 11 PDP and copied to the state chairman of the party as well as the chairman of Ikwo Local Government, South-east zonal chairman and national chairman of the party, Ogbuewu expressed regret for his action alleging that he was forced by the actions of the powers that be in the party, particularly in Ebonyi State, to resign.
He noted that being a democrat and loyal party man, 'I feel that the party at the state level has lost all democratic tendencies which would have encouraged internal democracy in the party.
'To this end, I wish to state that I have lost confidence in the party especially at Ebonyi State level. I am a governorship aspirant who would naturally want a level playing ground to contest with other aspirants.
But Ebonyi State PDP, from all indications, seems to have already adopted Gov Elechi as its candidate.
'A situation where a member of the State Working Committee has continued to promote electioneering campaign for Elechi on radio cannot be overemphasized as evidence of adopting a particular person as a candidate. I have therefore decided to resign from PDP to seek my interest in any other party of my choice; Ebonyians must be given a chance to taste the true meaning of democracy.' Ogbuewu added that 'it is with heavy heart I tender my resignation as a member of PDP.
'I say with heavy heart because PDP offered me an opportunity to serve as ambassador representing my country and as a minister of the Federal Republic of Nigeria. 'Equally on my part, I worked hard to promote electioneering dividend and have contributed morally and financially for the growth of the party.
But I regret the fact that I am being forced by the actions of the powers that be in the party particularly in Ebonyi State to resign. 'I am a democrat and loyal party man but I feel that the party at the state level has lost all democratic tendencies which would have encouraged internal democracy in the party.'