IBADAN FLOOD DISASTER: 22 PEOPLE STILL MISSING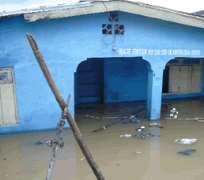 Some residents of Ibadan who were affected by last Tuesday's flood are yet to get over the devastating effect of the disaster in which no fewer than 10 people were swept away.
Latest report has revealed that an additional 22 people were still missing after the midweek disaster.
Oyo State Commissioner for Environment and Water Resources, Majekodunmi Aborode made the disclosure during an assessment tour of the affected communities.
In tears, the residents of Ariyo-Olunloyo and Foworogi Idi-Osan in Oluyole and Ona Ara Local Government areas which was visited by the Commissioner and other top officials of the Ministry, showed the commissioner where 18 victims of the disaster were buried at Ogbere River bed in accordance with the tradition. The community leaders informed the commissioner that no fewer than 40 people might have been swept away by the flood.
Chairman of the Landlords Association in Ariyo Olunloyo,Rasaq Gbadamosi who spoke on behalf of the residents, blamed the local government chairman of the area of not paying proper attention to the state of the roads in the area,saying the terrible condition of the road and the bridge over the river was largely responsible for the disaster.
He further accused the council chairman of alienating himself from the people that elected him and his other officers while charging the state government not to direct whatever assistance it might want to render through the local government council.
His counterpart in Foworogi Idi-Osan, simply identified as R.A. Akin said the disastrous flood was not the first of its kind, stressing that the ill-fated lorry that was submerged in the area was usually the saving grace for the residents of the area.
He explained that the residents were usually cut off for almost 24 hours by the flood each time it rained heavily and the tipper was always around to pick the residents across the river at the rate of N20 or N30, depending on the number of 'passengers' available at any particular time.