Jonathan's Aspiration: Ignore Ciroma, Kaita, Others – GEJ Campaign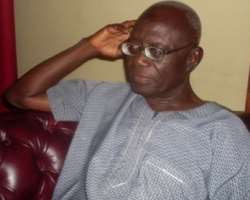 PHOTO: ALHAJI ADAMU CIROMA.

ABUJA, Sept 19, (THEWILL) -The Goodluck Jonathan/Namadi Sambo Presidential Campaign Organisation has called on the National Chairman of the Peoples Democratic Party (PDP), Dr. Okwesilieze Nwodo and members of the National Working Committee (NWC) to ignore the call on them to stop President Goodluck Jonathan from contesting the party's presidential primaries.
Director of Media and Publicity of the Campaign Organisation, Mr. Sully Abu said the letter by former Finance Minister, Malam Adamu Ciroma and his confederates on Jonathan's presidential aspiration was a mark of disrespect for the party.
"The National Executive Committee (NEC) of the PDP has already taken a decision that President Goodluck Jonathan was constitutionally qualified to contest for the 2011 presidency.
"The decision was a product of thorough deliberations and due considerations which benefitted from input by the leadership of the party at the levels of the National Caucus, Board of Trustees, the NWC and the NEC," Abu said.
He stated that the respected northerners who style themselves "Concerned PDP Members" were acting contemptuously of the capacity and wisdom of the party in resolving the zoning controversy.
"The PDP NEC resolved to maintain the zoning policy and that was a well-thought out decision to accommodate all parts of the country while not undermining the provisions of the constitution by precluding the right of anyone to aspire for the presidency," he added.
He said he believed that the party would "simply ignore the letter by these northerners" because "having taken a decision on the zoning issue and the propriety or otherwise by President Jonathan to run, the party should be forward looking on the conduct of the congresses and primaries at all levels elective public office."
A group which addressed itself as 'Concerned Members of the PDP', made up mainly of northern politicians who are against Jonathan's bid for the presidency in 2011 had in a letter signed by Adamu Ciroma, Iyorchia Ayu and a few others and addressed to Dr Nwodo, asked the party to ban President Jonathan from contesting as an aspirant in its primaries.