September 19, 2010

| Kenya
Dr.Gilbert Bukenya Was Simply Shown a Copy of the Animal Farm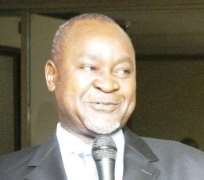 Dear readers,
Following the end of the NRM primaries, I would like to congratulate president Museveni as one of the brilliant political brains Uganda has ever produced because he managed to get rid of one his future opponents in his vice president, Bukenya Gilbert, without firing any bullet or anything like imprisonment. President Museveni has ended Bukenya's political ambitions in the most extra ordinary way possible which may not bruise him (the president) that much and I'm still shaking my head over it. What a genius!

Gilbert Bukenya
There is no way the current Secretary General of NRM, Amama Mbabazi, could have beaten Dr. Gilbert Bukenya in any fair and free election unless if there was some underplay somewhere. Obviously, I'm basing this on Mbabazi's previous abysmal performance as the Secretary General of the party. However, I remember watching a YouTube video where Mbabazi laughed off Bukenya's challenge in simple words, and some of us called him arrogant, but maybe he knew something we didn't know. Actually, the Observer newspaper went with a big headline about Mbabazi Vs Bukenya for the Secretary General, and it was all arrogance throughout.
I therefore made a prediction sometime this year that Bukenya was going to win the post of Secretary General but I had underestimated the powers of the 'remote control' in this process. I apologize to the Vice president, Bukenya, if he got a snooze about it and also got excited about the whole thing. The way I see things now is totally different after the NRM primaries and I would never rule out Amama Mbabazi or anybody from becoming my president in the post Museveni era.
Now, let's face reality: If Bukenya was told not to stand against Mbabazi before the delegates' conference but he insisted and lost, what does that say about NRM? It means that there is a 'remote control' controlling everything in NRM, and this time the button 'BG'(Bukenya Gilbert) was not pressed. Somebody decided that this is the best way to dump him, and to be honest, I think he is gone after this.
Bukenya's Life after NRM primaries
This is my simple prediction as far as post Namboole-Bukenya is concerned: He is going to accept the results and move on, just like Honorable Ssekikubo(Lwamiyaga) did. He will accept the advice from the Animal farm: " All men are equal but some men are more equal than others'. Probably he may be consoled with some simple post somewhere if he does not wreck the boat or make too much noise but we should accept that Bukenya's political ambitions are over. If he is maintained as the vice president, it will be because he is a catholic and there wasn't a single catholic elected in the top five powerful NRM positions. Honorable Kaddunabi Lubega (Butambala) and honorable Sempijja (Masaka) were also among those ones that were humbled using the NRM ''Super'' Electoral Commission and now I think they have leant their lessons. Sometimes I wonder what is going in these guys' minds!
If anybody wants to enter that parliament, they better run to state house and get endorsed by president Museveni. I think his hands are everywhere and my hats off to him. You become stubborn, he will always find a way to humble you which my Rwanda friend I hosted for Iddil Fitri called 'MUSEVENI'S DIPLOMACY' which he wants president Kagame to borrow as far as his enemies, the Nyamwasas, are concerned. The same diplomatic skills have worked on the Kampala Mayor, Alhajji Nasser Ssebagala, and now he is singing 'long live Museveni'.

Amama Mbabazi,NRM Sec Gen
Baganda in the NRM
It's also wrong for some people to blame all this jiggery and thuggery we witnessed in the NRM primaries on Baganda delegates who did not support Bukenya. Baganda in the NRM are not as powerful as some people think. They control nothing and if you control nothing, you cannot control an election. NRM have got their way of doing things which has got nothing to do with any particular tribe. Somebody is controlling everything on a remote control and I think this is the time to think twice about the whole 2011 election thing because the opposition may be wasting their time.
Bukenya did not lose because of what he uttered about Buganda riots and CBS last year. There are those Baganda in NRM that didn't approve the closure of CBS and condemned the riots but the 'remote control' again did not want them on the scene, and so they are gone. For instance, Brother Hajji Kadunabi was shown the one way ticket out of Butambala, and also got disqualified to stand against Alhajji Moses Kigongo for the post of vice president. In simple terms, he was also shown the copy of the 'Animal Farm'?
If a man controls the system in Africa, then he controls the elections. If you control nothing, you cannot determine the outcome of an election in most developing countries. As things stand, Ugandans should be prepared for anybody to become their president starting with 2011 elections. As for me, I will be watching a film entitled 'Remote Control' while eating popcorns with a cup of tea in next year's elections.
Byebyo ebyange

Abbey Kibirige Semuwemba
United Kingdom
Blogs:
http://ugandansatheart.wordpress.com/
http://semuwemba.wordpress.com/
http://ekitibwakyabuganda.wordpress.com/
http://ugandamuslims.wordpress.com/
''We must stop thinking of the individual and start thinking about what is best for society." (Hillary Clinton, 1993)