THE GOODLUCK JONATHAN DECLARATION, I ONCE HAD NO SHOES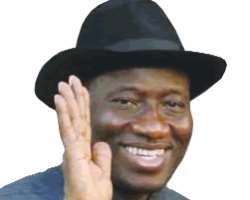 President Goodluck
President Goodluck Jonathan at exactly 3.20 p.m. yesterday declared his intention to contest for the presidential primaries of the Peoples Democratic Party (PDP) in other to fly the party's flag in the 2011 elections alongside Vice President Namadi Sambo.
Jonathan who reiterated for the umpteenth time his commitment to a free and fair elections next year despite his interest, assured that he has no political enemies but see opponents as friends with common destiny.
According to him 'I have come to preach love not hate, I have no political enemies to fight, I see other opponents with similar interest as friends and we have a common destiny'.
President Jonathan was however quick to add that kidnappers and armed robbers should be prepared for war for giving the country a bad name and that his administration will have zero tolerance for corruption.
He made his public declaration at the Eagle Square with intermittent chants of Jonathan/ Sambo slogan renting the air.
All the PDP governors except Kwara State governor, Dr. Bukola Saraki who is also billed to declare his intention to contest for the presidential ticket on Monday were present.
The three governors who graced General Ibrahim Babangida formal declaration on Wednesday, Governor Aliyu Babangida of Niger, Murtala Nyanko of Adamawa and Aliyu Shinkafi of Zamfara made surprise appearance.
President Jonathan noted that the country was at the threshold of a new era; an era that beckons for a new kind of leadership; a leadership that is uncontaminated by the prejudices of the past; a leadership committed to change; a leadership that reinvents government, to solve the everyday problems that confront the average Nigerian.
The President who asked for a minute silence to be observed for late President Umaru Musa Yar'Adua, said the past four months as President has led him to discover that by insisting for the right things to be done, 'we could begin a turnaround in our power sector by involving the private sector in power generation and distribution'.
He added, 'as you can see from the lower quantities of diesel that you are buying today, power generation has significantly improved'.
Explaining why it took him this long to declare his intentions, Jonathan said, he said it would have distracted his administration 'from all the development initiatives we have accomplished so far'.
He said if elected, his administration 'will fight for justice for all Nigerians to have access to power, qualitative and competitive education, health care reforms, to create jobs for all Nigerians! fight corruption! fight to protect all Citizens! And we will fight for your rights!'
Stating that his story was that of hope to the youth of Nigeria, he went down memory lane how he went from grass to grace today.
'I was not born rich, and in my youth, I never imagined that I would be where I am today, but not once did I ever give up. Not once did I imagine that a child from Otuoke, a small village in the Niger Delta, will one day rise to the position of President of the Federal Republic of Nigeria. I was raised by my mother and father with just enough money to meet our daily needs.
'In my early days in school, I had no shoes, no school bags. I carried my books in my hands but never despaired; no car to take me to school but I never despaired. There were days I had only one meal but I never despaired. I walked miles and crossed rivers to school every day but I never despaired. Didn't have power, didn't have generators, studied with lanterns but I never despaired.
'In spite of these, I finished secondary school, attended the University of Port Harcourt, and now hold a doctorate degree.
'Fellow Nigerians, if I could make it, you too can make it', he said.
He added, 'my story is the story of a young Nigerian whose access to education opened up vast opportunities that enabled me to attain my present position. As I travel up and down our country, I see a nation blessed by God with rich agricultural and mineral resources and an enterprising people. I see millions of Nigerians whose potentials for greatness are constrained by the lack of basic infrastructure.
I see Nigerians who can make a difference in the service of their country but are disadvantaged by the lack of opportunities.
'My story symbolizes my dream for Nigeria. The dream that any Nigerian child from Kaura- Namoda to Duke town; from Potiskum to Nsukka, from Isale-Eko to Gboko will be able to realize his God-given potentials, unhindered by tribe or religion and unrestricted by improvised political inhibitions.
'My story holds out the promise of a new Nigeria. A Nigeria built on the virtues of love and respect for one another, on unity, on industry, on hard work and on good governance.
'My fellow Nigerians, this is what has brought me to Eagle Square today. I have come to say to all of you, that Goodluck Ebele Azikiwe Jonathan is the man you need to put Nigeria right. I have come to launch a campaign of ideas, not one of calumny. I have come to preach love, not hate. I have come to break you away from divisive tendencies of the past which have slowed our drive to true nationhood. I have no enemies to fight. You are all my friends and we share a common destiny'.