PEAK TALENT SHOW TURNED MY LIFE AROUND – YEMI ALADE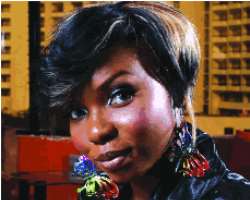 Yemi Alade
Winning the inaugural Peak Talent Show last year completely transformed her life. In fact, it's not smiling home with the grand prize of N1 million that matters most, it's the golden opportunity the show offered to discover her potentials as a musician.
Pretty Yemi Alade described the process that threw her into the limelight as challenging and invigorating, saying she had gone into the Peak Talent Show as a rookie who badly wanted an avenue to launch out.
Hear her: 'The Peak Talent Show was an invigorating process that gave me the required impetus to truly want to pursue a career in music. I went into the competition as a raw talent who needed an avenue to showcase her talent. The competition more than challenged me to respect my art as a lot of hard work rather than just talent.'
Alade says further: 'Before Peak, I'd always relied on the fact that I think I can sing. However, now that I have gone through a competition and done some professional training sponsored by Peak, I realize that I have a lot more to learn about the art and the business. I'm more convinced now more than ever that this is the reason I am here.'
To the 300 level Geography student of University of Lagos, music comes naturally. Indeed, she breathes and lives music. 'I've been doing music since I was old enough to string a melody together,' she quips.
From the age of 12, Alade has been singing in the choir. And this had helped greatly in fashioning a method and structuring her singing and songwriting. Only five years ago on the prodding of her family and friends, Alade began to do music professionally, graduating from just humming melodies during her daily chores to actually sitting to write songs from deep within her soul.
'I don't know what I'd be doing if I weren't doing music,' she says, adding: 'It's the very essence of my being. I see music as an outlet to express myself. The stories I tell through my songs are from my personal experiences and those of people around me.'
Signed to Jus' Kiddin' Entertainment, Alade's first single Fimisile, which features singer/songwriter, eLDee, is now playing on the radio.
Enter Peak Talent Show Season 2
As Alade's first single Fimisile, which features singer/songwriter eLDee, is now making waves on radio, young and talented individuals who aspire to make it big like her will have the opportunity of showcasing their potentials as the audition for the season 2 of the Peak Talent Show kicked off in Kaduna on Monday, September 13, 2010.
According to Ore Famurewa, Corporate Affairs Manager, FrieslandCampina Wamco Plc, makers of Peak milk and producers of the show, this year's edition promises to be bigger and more exciting.
Speaking at the press conference to kick-start the Peak Talent Show Season 2 in Lagos during the week, Famurewa says: 'Apart from amplifying the Peak 'It's in You' campaign theme, the show will create a platform where young Nigerians can discover and develop diverse talents in music, dancing, singing or any amazing talent with entertainment value.'
Having commenced in Kaduna on Monday, the auditions for the show will take place in 10 more cities nationwide including Zaria, Abuja, Jos, Enugu, Asaba, Benin, Ekpoma, Ibadan, Ile-Ife and Lagos. Here, contestants will be required to showcase their talents before a panel of celebrity judges. And from each zonal audition, four acts -will win an all-expenses paid trip to Lagos where they will be camped in the Peak Talent House.
Says Famurewa: 'In the Peak Talent House, contestants will receive further training and coaching required in preparing them to participate in the weekly elimination shows, where a combination of judges and SMS voting by viewers will lead to the emergence of the star prize winner at the end of the 5th week. Judging criteria will be based on stage presence, entertainment value, talent, and ultimately true potentials.'
At stake in Season 2 is N40 million worth of prizes. But then unlike last season when Alade got N1 million, this year's star winner will smile home with N2 million including talent development contract. And for the viewers, there are exciting prizes to be won including iPads and Nokia TV phones based on their consistent SMS voting.
The Peak Talent Show, which is free and open to individuals from the ages of 16 and above, will air for one hour from Saturday, September 25, 2010. It would run for 13 weeks on AIT Network, STV (Lagos, Benin and Port Harcourt), Galaxy TV, Lagos, BCOS, Ibadan, and DStv's Africamagic.