Give Jonathan His Balance Four Years; He Will Win In the North - Tafida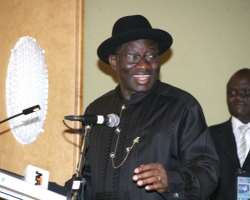 PHOTO: PRESIDENT GOODLUCK JONATHAN.

ABUJA, Sept 17, (THEWILL) - Contrary to views in political circles that the North may pose a difficult hurdle to President Goodluck Jonathan to cross at the primaries of the Peoples Democratic Party (PDP) and in the general election, Director General of his Campaign Organisation, Senator Dalhatu Sarki Tafida today declared that the president would secure emphatic win in the North.
Addressing a press conference in Abuja ahead of Jonathan's public declaration for the 2011 presidency, Tafida said that his candidate would not have any problem securing well over fifty percent of the delegates' votes from the North at the primaries.
He was confident that Jonathan would go ahead to confirm his wide acceptance by Nigerians in the Northern part by winning the presidential election.
"One thing I can tell you is that we have 19 States in the North and whatever the number of aspirants we have, we will get well over 50 percent.
"Even yesterday (Thursday), I got a call from a governor along with the Minister and Ambassador from that state saying there is no way one vote will deviate from Goodluck Jonathan and it was from the extreme Northern part of Nigeria. I am telling you this; Insha Allah, Goodluck Jonathan has no problem," Tafida assured.
A member of the party's Presidential Campaign Council, Senator Isaiah Balat, who reinforced the position of Tafida at the briefing, said that Jonathan would win more than two-thirds of the Northern states.
"Our candidate will win more than two-thirds of the states in the North. The DG was just being conservative in his assessment.
"But we do know that the President has been accepted in the Northern part of the country and he is a man to beat in the country. This race is about him and others and I want to assure you that the North is comfortable with his candidature and the North is going to vote massively for him," Balat said.
But responding to a question on whether Jonathan would stay in office beyond 2015 when he wins next year's presidential election, Tafida said that was not the intention of his candidate.
"Goodluck Jonathan is spending the balance of the four years (of Yar'Adua-Jonathan ticket) and all that I can say is that this is the intention of Goodluck Jonathan.
"But as you know, politics is not about Goodluck Jonathan; politics is not for us here in this room; politics is not just for Nigerians just within an enclave; politics of Nigeria is about Nigerians.
"We should give Goodluck Jonathan those four years and see how he performs. Then it is left for you and for him to decide whether he would need to spend more years. In any case, this is his intention (to spend the balance of four years) at the moment, " Tadifa said.
But on what Jonathan would do in the event that he suffers a defeat at the party primaries, he said his candidate was prepared for any eventuality.
"A politician who does not imagine a defeat is not supposed to go into politics. We all have contested before; we all have won before and we all have lost before and nothing happened.
"Anybody who does not envisage defeat must not go into politics. But in any case, anything can happen and we are prepared for it; but believe you me, we always speak positively and you should speak positively for our candidate because he is a good man," he stated.
Tafida shed more light on the decision by Jonathan to throw his hat in the ring, declaring that it was bolstered by the resolution of the party that he could exercise his constitutional right despite the retention of the party's zoning policy.
He said, "He is the President and because he is also riding on a joint ticket, our great party saw the reason and we also believe in that reason that Goodlcuk Jonathan is entitled to contest for the remaining four years that he had along with Yar'Adua.
"We thought the party took a good decision, a good decision that he had the right to contest. I know you people may ask the question, it is still on zoning; but he is trying to work on the unfinished joint ticket of which he is a part."
Tafida vouched for the youthfulness, energy and wisdom of Jonathan, stressing, "He is an academic for that matter who has passed through the mill. Some people talk of experience; that they are coming in to contest election because of experience. Well, what experience has someone who was Deputy Governor, Governor, Vice-President, and now President not got?
"Do we have anybody with such an array of experience in Nigeria today? So, you can see that if we are talking of experience, Goodluck Jonathan has met all the criteria for experience," he added.
Tafida used the occasion to dismiss reports that the guidelines of the party on order of primaries that put the presidential primaries last were aimed at putting the president at the mercies of state governors, saying there was nothing to worry about.
"I think in that guideline, there is nothing new; there is nothing different from what we have in the Electoral Act and therefore there is nothing to worry about at all. The President is still the President," he stated.
He also, in response to another question on the prosecution of the Halliburton scandal and the commitment of the Jonathan administration to fight corruption, assured that the anti-graft war is on course.
According to him, "When you are doing this, you must be systematic. There are countless cases that had been taken to court and the details of the cases were not fully ready. I assure you that the government intends to pursue the case (Halliburton scandal). This government intends to pursue the issue of anti-corruption and the issue of Halliburton. There are many other cases seriously; so, please give us a chance."
Senator Tafida used the occasion to formally name members of the Jonathan Campaign Organisation. They include Dr. Samaila Sambawa as Director of Campaign and Logistics; Alhaji Gulak, Director of Mobilisation and Organisation; Sully Abu as Director of Media and Publicity; Senator Okon, Member of the campaign Organisation; and Mike Obire, Director of Planning Research and Strategy.