2011: Jonathan to spend one term in office---Campaign DG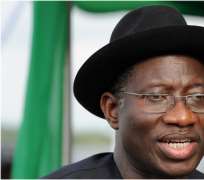 As Abuja is set for the declaration of President Goodluck Jonathan , the Director-General of his Campaign Organisation, Dr. Dalhatu Tafida has said that Goodluck Jonathan may not spend more than one term in office if elected in 2011. Tafida , who spoke at a press conference in Abuja to herald the flag off of the President's campaign, said Jonathan will win the PDP primaries.
  He said: 'The President wants to run for one term. All I can say is that this is the intention of Goodluck Jonathan . But as you know, politics is not about Goodluck Jonathan, politics is not just for Nigerians within an enclave.
  'We should give Goodluck Jonathan these four years and it is left to him to decide whether he will seek another term or not. But his intention is to run for one term.
  'You must appreciate the fact that Jonathan became President not by any design but just by providence. They had a joint ticket for four years and by providence, because President Umaru Yar'Adua died, he became the President'.
  'And because he is also riding on a joint ticket, our party saw a reason that he is entitled to contest for the remaining four years. We thought the party took a good decision that he has the right to contest. He is trying to work on zoning an unfinished ticket'.
  'The gentleman is already on the seat. Anywhere in the world, there is no place where a sitting President would just sit for only one year and vacate his seat. He had done quite a lot, he deserves a fresh term'.
  Tafida added that there is no cause for the alarm for Jonathan in winning Northern states.
  He said the President is sure of a minimum of 50 per cent of the votes in the 19 Northern states.  He added: 'Even the President cannot tell you how many states are with him in the North.
  'We have 19 states in the North; we will get a minimum of 50 per cent. Even yesterday, a state that I thought is not with us said there is no way, they are for Jonathan.'
  But a member of the Presidential Campaign Council, Senator Isaiah Balat , quickly cut in and said: 'We are going to carry more than two-thirds of the states in the North. We do know that the President is acceptable to Northerners.'
  Regarding the order of primaries, Tafida added: ' Insa Allahu , Goodluck Jonathan has no problem with primaries.
  'I think that there is nothing new, there is nothing different in the order of primaries with the Electoral Act. There is nothing to worry about; there is nothing worrisome about it.'