9ICE'S DISS TRACK DEEPENS BITTER FEUD WITH RUGGEDMAN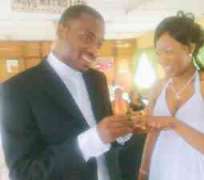 9ice and Toni
What are friends for, if not to share in each other's joys and triumphs, sadness and trials, and exchange gifts on special occasions? So, why should it be any surprise when early Saturday, September 11, music star, Abolore Akande, widely known as 9ice announced on social networking site, Twitter; 'I want to give a very dear friend the best birthday present ever in his entire life. Come 20th of this month (September).' For those who did not know, Monday, September 20, is revolutionary rapper, Ruggedman's birthday. Typically, the hitherto fiery lyricist whose real name is Michael Ugochukwu Stephens is always buffeted by a plethora of well-wishes and gifts from fans and friends. This year is not going to be any different.
As September 20th draws nearer, Ruggedybaba, as he is also known, is literally looking furtively around, squinting his eyes, furrowing his brows, straining his ears, listening attentively to every sound and waiting eagerly for the much-talked about special gift from his former collaborator and friend, 9ice.
However, for those conversant with happenings in the entertainment industry, Ruggedman is not looking forward to 9ice's gift.
This is because 9ice's Greek gift is nothing more than a diss track, one of the most acerbic from this side of the divide. Though Ruggedman is not completely new to lyrical attacks from fellow artistes, with the most virulent in recent years being from fellow rapper, Mode 9, 9ice's will ruffle feathers, further polarise music buffs and set a negative precedent.
This is more so because the song, entitled Talk, I am Listening, is as brash and blunt and crude as it can ever be. Featuring Seriki, a signee on 9ice's Alapomeji Records, 9ice blatantly and repeatedly calls Ruggedman a bastard in the song, while prodding the up-and-comer to further carpet him saying, after all, he did likewise to some people to get to the top.
Spurred beyond reasoning, Seriki wonders why Rugged would bite the finger that feeds (?) him; and (betray) the person that sang the chorus to his beat (Opomulero), among other expletives. 9ice also gladly informs that his adversary sleeps with his dancers. The video of the song, E-Punch gathers, was shot in London and it features a character garbed like Ruggedman, gagged and bound inside the trunk of a car, while 9ice pummels him with a club. But what is Ruggedman's offence?
The beginning
Hitherto, Ruggedman and 9ice were friends who lived not far apart from each other in Akoka, Lagos. They even collaborated on the former's hit song, Opomulero, and appeared at not a few concerts together. Prior to the duet, 9ice was alleged to be one of those who fed off his more established colleague. Then, at an event in Lagos in 2006, Ruggedman introduced 9ice to Tony Payne, a graduate of California State University, US, where she studied Video Digital Art. Tony has always been an entertainment buff. At that time, she was based in Los Angeles, seeing to her cosmetic business but not losing touch with the key players in the industry. Those who know Tony well describe her as being hard working but easily star-struck; a predilection that allegedly led to clandestine coziness with some entertainers including Tu Face Idibia at some point in time.
Then, 9ice was just on the threshold of fame and fortune. By 2007, his sophomore album, Gongo Aso, became a monumental success, breaking racial, language and religious barriers while attaining the popularity of a national anthem just that unlike the latter, everybody seemed to know the lyrics of Gongo Aso word for word. Career successes came in a deluge for 9ice, winning awards in Nigeria and Africa and Europe while netting mouth-watering performance engagements all over the world. Before he clocked 30 in January this year, 9ice had already achieved what it would take some of his peers decades to achieve. Things could not have been any better for a young man who had known poverty for the best part of his life.
As the story goes, 9ice and Tony's was a whirlwind romance that was consummated by a common love for music; and solemnised at the Ikoyi Registry in July 2008 by a mutual desire to be an enviable, lovable couple. By December 2008, the couple had their first child, a boy, Zion. In January 2010, the inevitable happened: the couple, in a widely syndicated press statement, announced their separation, begging for understanding on the part of their fans and vowing to continue as friends and business partners. It was decided that Zion would remain with his mother who was disgruntled that her hubby went public with their estrangement. She never quite forgave 9ice's minders.
The controversial song
Some weeks before their official separation, 9ice had released his third studio album, 'Tradition', which did not achieve instantaneous success. Gradually though, it grew on his fans, and a few tracks started occasioning replays. People heard and wanted to hear them all over again, particularly, the plaintive ballad, 'Once Bitten, Twice Shy'. The song recounts the hurts of a lover who saw with his 'two naked eyes' his wife showing his best friend her tattoo (ostensibly located in a private place) and giving him 'nodding' which has been translated by many to mean oral sex.
But there is more. The supposed wife is also alleged to be a bi-sexual who sees herself more as a business venture than a wife. That triggered a flurry of finger-pointing. It had to be Ruggedman and Tony, many conjectured. At different fora, both denied the allegations that the song was directed at them. Even 9ice absolved Ruggedman of wrongdoing in a telephone conversation that was secretly taped by the latter and subsequently leaked to the press in a desperate measure to clear his name.
The flaks and condemnation Ruggedman received for his approach to the issue would last him a lifetime.
E-Punch findings revealed that the controversial song was actually a last minute addition to the new album, at which time the marital cord had snapped irretrievably between the couple. Tony however claimed that she was part of the recording of the song before their separation and that she loved it then. So, Ruggedman advised her; 'Get 9ice to step up and clear this thing about this song once and for all so all this bullshit can stop. He sang the song, only he can say who he was talking about. So, 9ice where are you?'
9ice surfaced on September 11, spitting fire like an accustomed advocate of Sango, the god of thunder.
The face-off
A short while after 9ice announced his special gift to his dear friend; Tony tweeted, 'Sept 20! Ki olorun da emi gbogbo wa si (May God protect us all). That day, I will fully understand the type of person I said 'I do' to. Release dat diss track for Rugged and I will officially know u don't know or fear God. Let dat fake manager of urs push u till u can't move (anymore).' Thus, opened a flurry of bitter, heated exchanges between the former couple while their fans, of course, took sides. Nonplussed as to why 9ice would devote so much energy and time to Ruggedman, instead of 'sorting out his life, Tony said, 'Yeah, (the song) will sell the album o but consider it blood money for every insult av gotten, for every tear av shed, (and) for every pain av felt. Continuing, 'Consider every unit sold a tear drop from me and trust me, God don't (sic) like ugly, what sort of dude doesn't consider his child or the woman (that) had him.'
The barrage of exchanges continued unabated. 9ice then responded that, essentially, it was the fact that Tony was his baby mama that gave her immunity in the first place but that she threw that away by coming at him in public.
'So, I will respond to you. Ask how respectable parents behave, (because) you have no idea.' 9ice further denied allegations that he had been sending messages to his estranged wife, imploring her to come back, saying, 'definately (sic), that isn't me and if you say it is me, I dare you to put the meg(messages) out here on twitter, and I will respond to that.'
While Ruggedman tacitly refused to join in the affray, he tweeted, 'As long as you are alive, trials and tribulations will come. Friends will betray you, (and) lie against you.' For Ruggedman whose lyrical jabs and jibes at unsure talents earned him renown, it remains to be seen whether he would respond to the diss track in his (dis)honour.
Enters, Oladehinde Fajana
While the singer fingers his wife's 'crooked' ways as the bane of their union, Tony thinks 9ice's major problem in life is his manager, Oladehinde Fajana. According to her, 'Oladehinde specialises in home wrecking, spreading false tales and (he) is a good pretender. He is obsessed with him and prevents people, even me and ID Cabasa (who produced the Gongo Aso album) from reaching him. He ruined my marriage.'
Fajana would neither pick his calls nor respond to E-Punch's enquiries. What's, however, obvious is that, inadvertently, 9ice and Tony have become the latest avatar for celebrity marriages gone awry.