Jonathan Pulls Out Of Columbia University World Leaders' Forum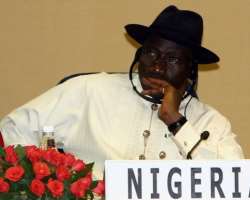 PHOTO: NIGERIAN LEADER, GOODLUCK EBELE JONATHAN.

San Francisco, Sept 16, (THEWILL) – Nigerian President Goodluck Jonathan has pulled out of the Columbia University World Leaders' Forum which he was earlier scheduled to address during his visit to United States next week to attend the United Nations General Assembly.
The event was scheduled for September 20, 2010 at the University Campus in New York.
A note from the Columbia University World Leaders Forum announced the cancellation but gave no reason.
The Nigerian High Commission in New York and the President's spokesman, Ima Niboro were unavailable for comments.
Nigerian Permanent Representatives to the UN, Prof. Joy Ogwu, while speaking to journalists at an interactive session a few days ago had said, "Several world leaders have used this forum to project their national interest, and for us, it is a great honour for our president to take this forum."
Established in 2003 by Lee C. Bollinger, the World Leaders Forum is a year-round event series aimed to advance lively, uninhibited dialogue on the large economic, political, and social questions of our time.
The Forum's roster of past participants features many of heads of state, in addition to other global thought leaders from a broad spectrum of fields and all regions of the world.
A few of the many remarkable past participants are Presidents Bill Clinton, Nicolas Sarkozy of France, Vladimir Putin of Russia, Michelle Bachelet of Chile, Václav Klaus of the Czech Republic, and the Dalai Lama.