JEGA, INEC TOP OFFICIALS BEGIN RETREAT IN CALABAR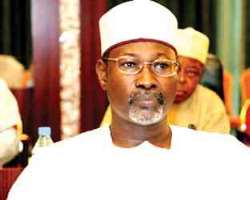 Prof. Jega
As the top hierarchy of the Independent National Electoral Commission begins its retreat Friday (today), in Calabar, the Commission's level of preparedness for the 2011 elections tops its agenda, a source said in Abuja on Thursday.
The source said the management team would at the meeting 'fine tune' strategies needed to ensure the Commission delivered on its promises.
The source who pleaded anonymity because he was not authorized to speak to the press said 'We are definitely going to assess the progress made since Prof. Attahiru Jega assumed office about two months ago.
He said, 'We will also assess the level of our operational readiness for the electoral time table we have released.
'Most importantly, we expect to take a final decision on when to unveil the contractors who won the bids for the Direct Data Capturing Machines and other equipment needed to facilitate our assignment.'
Another issue on the agenda is the consideration of requests for 'merger' or 'alliance' between two or more political parties.
The Director of Public Affairs, Mr. Emmanuel Umenger, could be reached for comments as he was said to be on the way to the retreat venue and his mobile phone was switched off.
However, the Deputy Director of Public Affairs, Mr. John Irem in a programme aired on an Abuja based radio station, on Thursday, said INEC was unaware of claims of a merger of the Progressive Peoples Alliance with the Peoples Democratic Party.
He also said the Commission was aware of the existence of 62 individual political parties but was not aware of 'a Mega Party.'
Irem said 'The Electoral Act is clear about the procedure for registration, merger or an alliance between political parties. Specifically Section 84 (1).
The section reads: 'Any two or more registered political parties may merge on approval by the Commission following a formal request presented to the Commission by the political parties for that purpose.
Section 84(3) says a written request for merger shall be sent to the chairman of the Commission and shall be signed jointly by the National Chairman, Secretary and Treasurer of each of the parties among other things.
In addition to the payment of the relevant fees, parties proposing to merge are also expected to accompany the letter with the resolution to so merge.
The resolution must be one taken at a convention of each of the political parties.'