ALL SET FOR OMOTOLA'S ALBUM LAUNCH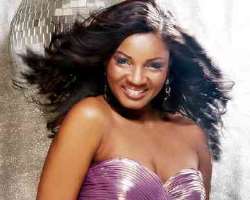 OMOTOLA
With Nollywood firmly in her grip – thanks to a string of successful movies in recent time – Nollywood diva, Omotola Jalade Ekehinde, seems unstoppable in her bid to become an accomplished music star. The VIP launch of her second album, Me, Myself and Eyes, has been slated for Friday, September 24 at the Eko Hotel and, for the past three weeks, the wife of Captain Mathew Ekehinde has been taking rigorous dance lessons at the National Theatre. E-Punch learnt that OmoT now rehearses virtually every other day to perfect her live performance skills.
But if you are already checking and re-checking your wardrobe to ensure that you have the appropriate outfit for the event, check also that you are financially buoyant because E-Punch has reliably gathered that a table of ten goes for a princely N1million while a seat is set at N25, 000. A source close to the artiste disclosed that contrary to the feeling in certain quarters that she might be pricing herself too high, proceeds from the show will go to a charity organisation that is reportedly very close to her heart.
Meanwhile, a public launch of the album has been slated for Fantasyland, Ikoyi, Lagos, where fans can bring gifts in support of her charity initiative and see her perform live.