2011: JONATHAN NOT USING EFCC AGAINST PRO-ZONING GOVS – WAZIRI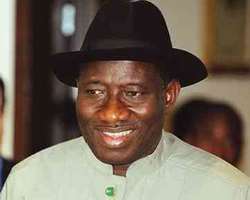 Dr. Goodluck Jonathan, President and Commander-in-Chief of the armed force of the Federal Republic of Nigeria
Chairman of the Economic and Financial Crimes Commission, Mrs. Farida Waziri, on Thursday said the agency was not being used by President Goodluck Jonathan against pro-zoning governors.
Waziri also accused Rivers State Governor Rotimi Amaechi of inciting hatred against the commission, noting that anarchy would reign in the country if other governors across the 35 states of the federation followed in his footsteps.
The EFCC boss said these while receiving a delegation from a non-governmental organisation, Women In the New Nigeria, in her office in Abuja.
Amaechi had during a summit on information and communication in Port Harcourt this month accused the commission of acting as a political tool to harass governors believed to be opposed to Jonathan's presidential ambition.
The governor had said, 'I have not said anything about 2011 election. The only thing I did was to come here and declare support for Goodluck Jonathan; and immediately I did that, they said I did not speak and EFCC is here today.'
But Waziri said the growing criticisms against her and the commission showed that things were moving in the right direction.
Waziri said, 'Governor Amaechi is fond of making reckless statements. I inherited a case file on Rivers and that is what we are investigating. We have not gone outside the laws in our work in Rivers.
'We received information through the Nigeria Financial Intelligence Unit that fund was laundered; and we invited his (Amaechi's) chief of staff and took him to court to face charges. Since then, he has not forgiven us.
'Recently, when we went to arrest some officials in the state, no magistrate agreed to sign the search warrant because they said they were afraid. There will be anarchy if all 36 governors behave like Amaechi.
'They just want to bring conflict between me and the office of The President. No amount of blackmail will stop us. I know they are fighting me because I'm working. It is false to say that the President is using us to deal with pro-zoning governors. We are working within the ambit of the law. In fact, the best chefs for cooking scandals are in this country.'
She advised Amaechi to take a cue from a governor who visited the commission to pledge his cooperation and readiness to hand over any of his aides found wanting. Waziri alleged that some of those standing trial for corruption had been manipulating the judiciary to stall their prosecution and buy time, in order to enable them to run in the 2011 elections.
She restated her earlier position that indicted politicians and those standing trial for monumental corruption would be stopped from contesting the elections. According to her, the commission hoped to achieve this by providing political parties with solid evidence, to convince them to drop such candidates.
'When I made comments that only God-fearing Nigerians should be allowed to contest for office in the next elections, I was vilified and accused of meddling in politics. I know that corrupt politicians are now jittery.
'Our decision is in line with the provisions of Section 6 (j) of the EFCC Establishment Act 2004, which permits us to 'collaborate with government bodies within and outside Nigeria carrying on functions wholly or in part analogous with those of the commission.'
'From the moment we expressed our desire to work with others to prevent the corrupt from returning to public office, we knew they would unleash terror on us through physical attacks and sponsored protests.
'The slogan among these people standing trial is if you cannot buy the EFCC, buy the judiciary. I know they will come and say since they have not been convicted, they will contest. But, we are waiting for them,' she said.
Waziri denied allegations that she told United States officials that Jonathan was not giving her a free hand to prosecute corrupt persons.
'It is unthinkable to say that I will report my President to anybody, much less foreigners. Nigeria is a sovereign state, just like the US. It is a shallow accusation, because our (US) ambassador was present throughout our deliberations.
'It is sheer mischief to say that we are moving against 10 governors, because of their opposition to zoning. We only went to few states where we have pending petitions. Nobody is pressuring us to do our work and we are not under the influence of anybody. Our work is based purely on concrete cases.'
The National Chairperson of the WINN, Dr. Esther Mangzha, said the group support the EFCC's fight against corruption.
When asked to react to Waziri's comments, the Rivers State Commissioner for Information and Communication, Mrs. Ibim Semenitari, said on the telephone, 'I will not dignify her by passing any comments.'