CREATING STREAMS OF INCOME FROM LIQUID SOAP PRODUCTION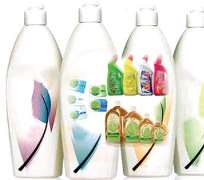 Creating streams of income from liquid soap production
In the opinion of Mrs. Eunice Olajide, owner of a small scale liquid soap manufacturing firm in Lagos, an unemployed graduate or a non graduate may not need to go about seeking for a job, as far as he can raise a relatively small amount of money to start what she describes as a promising business.
Liquid soap is a multi-purpose soap that can be used for washing plates, hands after meals and other household utensils.
According to her, the unnecessary hardship many face today as a result of unemployment could be a thing of the past, if they discover the income-earning opportunities in liquid soap making.
She says that one of the most fascinating things about liquid soap making is that, apart from requiring relatively small capital to start the process of marketing, the product is not so difficult as it offers opportunities of quick sales.
'Often, immediately after we finish producing the liquid soap, we send them to our clients,' she says.
Olajide, who claims to be producing 80 one-litre bottles of Moyin Multi-Purpose Liquid Soap, currently says she gets them sold within one week. A bottle of the soap, according to her, costs just N150 in retailership.
She explains that after the soap must have been produced in about four 20-litre gallons, they are then packaged into empty one-litre bottles.
After all the costs of production must have been deducted, the entrepreneur is expected to make about N6,000 profit every two weeks.
The Managing Director, Jolaces Production, a division of GCL Investment Limited, Mrs. Bola Olutunde, another manufacturer of liquid soap, explains that a prospective investor in the business must first of all learn the process of manufacturing the product.
Olutunde, who also specialises in training new entrants, says the process of mastering the art of producing the liquid soap takes just a week. This, she says, costs just N5,000.
For Olatunde, the target audience will guide the prospective entrepreneur on the quality of liquid soap to be produced.
The scale at which a new comer intends to start determines how much he or she will invest. It is expected that a new comer can begin with about N30,000, depending on the intended scale of production.
She says, 'For an operational take-off, you just need large containers that will be used for producing the liquid. In liquid soap making, you don't need any special machine for production, other than your raw materials - which are basically chemicals.'
'However, as time goes on and the scale of production increases, the producer will need to acquire special packaging machines for the products. At that time, you may need to start thinking of buying some machines.'
After all the processes of production have been completed, the next thing is to turn to sales.
For the owner of Moyin Soap, Olajide says she started by creating awareness about the product among her friends, neighbours and acquaintances.
According to her, she also gave out some of the products free to prospective customers to sample.
'This was what I did at the early stage. However, after I had established a good clientele base, it became easy to make sales,' she explains.
She adds, 'When I started, it was the one-litre bottles that I sold mostly. But I am beginning to go into bigger sizes, especially the four-litre size. Most of my clients are now asking for this size.'
A prospective entrant, Mr. Simeon Ohunenigbin, who is almost at the last stage of the learning processes in soap making at GCL investments, says plans are on for him to visit market women, restaurants, eateries and other places to establish sales links on the products.
Ohunenigbin, who is also planning to go into the manufacturing of other products, says he has also gone through some training sessions on how to manufacture disinfectants.
The Managing Director of Kolley Limited, a liquid soap producer, Mr. Kunle Adeifa, says he has not had any reason to regret going into the business.
Adeifa, who claims to have started with just N50,000, says his business is currently worth over N400,000.
He explains, 'I chose to go into this business because one can easily make it through it. Apart from not requiring much start up capital, I discovered that if one can establish a good clientele base, one will be laughing to the bank as frequently as one may desire.'
Meanwhile, for a new beginner, Olajide advises that after registering a business name, it is essential to get the product registered with the National Agency for Food, Drug Administration and Control to prevent the firm from being closed down by the government. This, she says, is to help the government monitor the quality of the liquid soap and to ensure that it does not pose any hazard to the consuming public.
However, she notes that this process may cost some amount, making the cost of starting the business to be a little bit high.
The danger inherent in the business, according to her, has to do with industrial accidents. She explains that although this would have been stressed during training, nevertheless, there are instances, where some of the chemicals, if care is not taken, accidentally spill on the producer during the laboratory processes, thereby causing a great damage to the individuals.
Another type of accident is the one that may likely occur at the stage of bringing the chemical home from the market. According to her, some portion may accidentally leak away or be kicked sideway, and thereby pour away. Such a situation, she says, may lead to a great loss. For instance, sulphuric acid cannot be repacked after it might have poured away or leaked away.