EX-PRESIDENT MULUZI DENIES MALAWI CORRUPTION CHARGES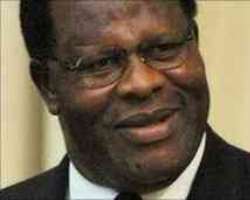 Bakili Muluzi's trial has been delayed by his ill-health
Malawi's former President Bakili Muluzi has pleaded not guilty to 12 counts of corruption, in his long-running trial at the High Court in Blantyre.
He was arrested in 2005 and accused of diverting a total of $12m (£8m) in funds donated by Taiwan, Morocco and Libya, among others.
He has always said the charges were linked to his dispute with his successor, Bingu wa Mutharika.
Mr Muluzi stepped down in 2004 after serving as president for 10 years.
He retired from active politics in 2009 due to ill-health.
His trial has been delayed by his health problems, with his lawyers saying the former president is too ill to take the stand.
Mr Muluzi says he has had undergone three operations on his back.