STRONGEST US RETAIL SALES RISE IN FIVE MONTHS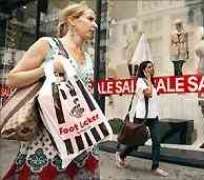 Clothing sales pushed overall retail sales growth to a five-month high
US retail sales rose by 0.4% in August, official figures have shown, the strongest gain in five months.
It was the second straight month of gains, and was slightly better than analysts had predicted, which has helped to ease concerns about the health of the US economy
The figures from the US Commerce Department were especially robust for clothing and fuel.
But car sales fell 0.7% for the month after increasing by 1% in July.
Incentives
According to analysts there were a number of factors boosting August sales.
Consumers flocked to retail outlets looking for "back-to-school" bargains and sales of sporting goods, hobby materials and books were particularly strong.
Many states have also been offering consumers tax-free incentives and retailers have been heavily discounting goods.
But although the sales figures are encouraging, analysts think that consumer spending is unlikely to pick up strongly whilst unemployment remains high.
Higher consumer spending is vital for US recovery because it accounts for about 70% of economic activity.