KABUL BANK TAKEN OVER BY AFGHANISTAN CENTRAL BANK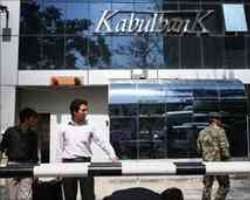 Security has been stepped up in recent weeks outside the main branch of Kabul Bank
Afghanistan's central bank has stepped in to take control of the troubled Kabul Bank.
Central bank chief Abdul Qadir Fitrat said investigations had also been started into the dealings of the bank's top two directors and shareholders.
Customers have been withdrawing money from the bank amid fears it may collapse following allegations of corruption and mismanagement.
Earlier this month, Mr Fitrat said Kabul Bank was "safe and sound".
Continue reading the main story
Related stories
Kabul Bank investors' cash frozen
Kabul Bank is offered state aid
At the time, he also denied the central bank had stepped in, saying "the media exaggerated the matter".
'Every penny accounted for'
President Karzai's brother Mahmoud Karzai is one of the bank's largest shareholders.
A senior official close to the president said the action was being taken to safeguard the nation's financial system.
"Every single penny of Kabul Bank belongs to the nation and every single penny will be accounted for," he said.
The bank, Afghanistan's top private financial institution, is responsible for paying the salaries of 250,000 government workers.
The New York Times and the Wall Street Journal have reported that the bank has run up debts of about $300m (£194m).
Central bank support
Last week, the central bank froze the assets of Kabul Bank's key shareholders, including the ex-chairman and chief executive.
Mahmoud Karzai was not thought to be involved in the property freeze because he does not have property registered in his name.
But a spokesman told the Reuters news agency last week that Mohammad Haseen, the brother of First Vice President Mohammad Qasim Fahim, was among the shareholders.
The central bank had previously said that it would back Kabul Bank, and was willing to offer it loans if requested.