Mass break-out from Nigerian jail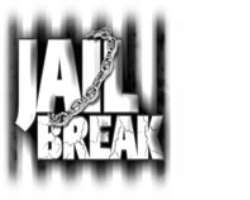 Over 150 inmates have broken out of an overcrowded prison in Nigeria's south-east during a midnight escape bid.
The police and army have returned all but 20 of the inmates who jumped to freedom after making a hole in the cell ceiling.
The prisoners climbed along inside the roof of a prison block to where it met the perimeter wall, the comptroller general of prisons told journalists.
Enugu prison, one of Nigeria's oldest, is overcrowded, authorities say.
"The prisoners who escaped were agitated at the serious delays in the judicial process," Comptroller General of Nigeria's prison service Olushola Ogundipe told journalists.
In Enugu prison, 724 prisoners out of the total prison population of 987 have not been convicted.
Tough conditions
Prisoners can be jailed for years without court sentences.
The midnight escape was rumbled when guards saw prisoners leaping over the wall from the roof of a prison block.
Prisoners in Enugu jail live in tough conditions.
Many are locked up 24 hours a day because there are not enough warders to prevent escapes.
Cells are dirty, hot and hold scores of people.
Judicial officers had been reviewing cases and freeing inmates who should not have been there.
The release programme had not been completed and the chief judge was due to return to complete it on Friday.
Mr Ogundipe did not say if the prisoners who tried to escape would be barred from the release programme.
"You know the inmates, everyone wanted their case to be heard," he said. "We are still bringing the situation under control."