IBB, SARAKI MEET OVER 2011 POLLS – KWARA GOV DECLARES THIS WEEK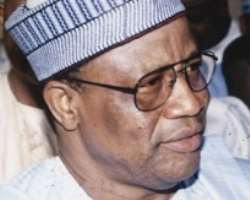 A source said, '(Saraki) came to Minna to discuss possible synergy between himself and the General ahead of the 2011 elections, which may not be in his capacity as chairman of governors' forum but in his own capacity as an individual.'
Another source close to General Babangida told Daily Trust that the meeting with Saraki lasted for about 30 minutes and that the Kwara governor also met with former head of state General Abdulsalami Abubakar over the 2011 presidential race.
Daily Trust learnt that Saraki's decision to declare his bid is largely because of the failure of consensus among the governors. In the past months, there have been efforts to take a united position in the forum, but the governors remained divided along supporters of zoning and those for President Goodluck Jonathan.
Saraki also yesterday met with Governor Mu'azu Babangida Aliyu, who is chairman of the Northern Governors' Forum.
When journalists sought Saraki's comments on the two meetings, he simply said 'no comment.' His spokesman Billy Adedamola said he was not even aware of the visit to Babangida, and so he could not say what was discussed there.
But Aliyu said it was in the spirit of the Eid el-Fitr festivity that the Kwara State governor made a stopover flight and that there was nothing more than that in the visit.
Speaking yesterday on the reported threats to the life of his campaign chief Raymond Dokpesi, General Babangida said the threats were meant to stall his presidential bid.
Dokpesi on Saturday alleged that some people close to the presidency were threatening him and his family, allegations the presidency denied.
Babangida told newsmen in Minna that the threats were real and that he was not surprised they were made against Dokpesi.
He said he has gathered substantial information on the level of intimidation against his campaign director and the case has already been reported to security agencies for investigation.
Meanwhile Babangida is billed to formally declare for the 2011 presidential at the Eagle Square in Abuja on Wednesday, according to a notice for the event published in today's newspapers.
The notice quoted Babangida saying, 'I believe in the politics of ideas. I believe that those who aspire to high political office must found their aspirations on concrete philosophical approaches to reality.'
Babangida has already appointed his campaign team, headed by Dokpesi as director general with Senate Chief Whip Kanti Bello as deputy director general.