I WAS A LITTLE RASCAL IN SCHOOL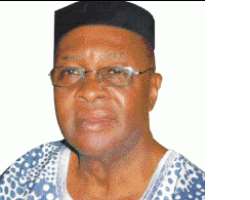 Mbadiwe (Pix-Mbadiwe)
By CHRISTY ANYANWU
Chief Victor Ngozi Mbadiwe is just 11 years older than Nigeria. A scion of the famous Mbadiwe family of Arondizuogu, Imo State, he is the chief executive of J. Green Mbadiweand Sons Limited, the sole distributor of WAHL clippers in the West African sub-region.
Right from a very early age, his father, Chief Green Mbadiwe, a very wealthy and successful business man made him recognize the importance of integrity in attaining one's life goals. That early preparation accounts for the achievements he has recorded in business. In this interview he speaks on his early years, business and life generally. Excerpts…
Growing up days
I belong to a generation of Nigerians born in the late 40s. Growing up in that era wasn't easy because we had very strict fathers, who always wanted you to do things the way they had experienced life. Because of that they put you through a lot of rigorous training. In my own time, my father was well to do in his time but despite that, he had to send me to somebody for training. At age 10 I was out of the house. I was living with somebody else; we lived all over the eastern part of the country, just for training because my father didn't want me to stay home and be spoilt. He wanted me to be trained. When I was with those people, I learnt how to go to the well and draw water; I learnt how to break the firewood, I learnt a whole lot of things from these people and I think the experience has helped me.
I was quite lucky that after secondary school, my uncle, the late Dr. Kingsley Ozuomba  Mbadiwe took me to United States where I went to further my education at City College, New York City. I read political science and business administration. I had double major. I came back to the country in 1979.
Incidentally, I attended two secondary schools. I started at Nike Grammar School, Enugu. It happened that we were one of the rascals in the school. We had a strike in school and got expelled. I managed to secure admission into Community Grammar School, Obodo-iyijiofo, Imo State, where I finished.
Why were you expelled from school?
We didn't like the kind of food they were giving us. We didn't have quality food. There were some students who were cowards that will not even say anything and accepted whatever they were given to eat. There were some of us who would want to push for better stuff and once we didn't see it coming up, we tried to organize a strike. The state of students welfare was very poor. When I was even young, I was somebody who liked to eat good food, and when I don't see it coming I have to react and that was what led to the expulsion. I was one of the guys that would always fight for our rights. I'm a guy who knows how to fight for my right, especially if I know that my right is not being given to me. I'm sure that when I was doing that in school with few of my guys other people were benefiting from it. Though we were expelled but they changed the food to show people that they are improving.
Are you saying that the reason was not because you were chasing girls or sneaking out of school to attend parties?
There was no room for that. The school was fenced, even if you did your house prefect would always check in the night to know if all the students were in the dormitory and if you were not there, that was a big problem because it could get to your parents. And that would also lead to expulsion. For you to go out of school those days you must be sick or something the school cannot contend with and your parents would always come to pick you from school.
How long have you been married?
I have been married for about 32 years. I have seven children, three boys and four girls.
How did you meet her?
It was in 1974 /75 or thereabout, I was in a house party in New York. My wife came to  that party and that was where we met. From then on, I saw her as a lady that is calm and submissive and cool because I wouldn't even get myself involved with somebody that would be giving me a rough time. I decided to settle with her. I have taste and because I am not the kind of person that would want to be in the news everyday or fight with my wife; all those things are stress. Once in a while we might have an argument and we still sit down and see the best way we can sort it out and keep moving ahead. When you have kids at home too the way you conduct yourselves as parents is the only way the kids could toe that line and you will be a role model and they will come up that way too. If there are lots of argument and fighting, the kids will grow up with that kind of fashion and possibly carry it to their homes when they mature. Honestly, I am happy with the kind of wife I have.
What was the attraction?
She is an attractive lady with a good disposition and good carriage. For me, it's just not the looks; I have to weigh a whole lot of things when it comes to looking at a woman, even if I don't have anything to do with you. I like ladies who carry themselves very well. I like women that have a wonderful carriage not just the beauty. Beauty is not just what I go for. I look at how you step up, how you carry yourself, how you talk, your demeanor, all of these matter to me. She has those qualities and that was what attracted me to her before I started talking to her. She still has them even up till now; if she didn't, I don't think she would even turn me on up till now.
Why are we seeing an increase in divorce rate?
During our own time, tolerance always went with marriage; today's young men and young ladies don't even have the time to tolerate one another. Little things agitate them and they say, 'damn, I don't want to get into this whole mess anymore, let me just cut off and see if I can start off some new relationship.' Or just be myself in the meantime. During our time, the way we saw our fathers, we have to have patience; we have to tolerate one another.  Marriage is not an easy thing. There's got to be tolerance and patience. Even among people of my generation, several of them have separated or divorced because they cannot help living together. Even me talking to you, if my wife was the kind that I can't tolerate her ways I will not tell you that I will be living with her. Sometimes some people will not even be willing to tolerate one another. Life is about give-and-take. But when it gets to a point that they cannot handle it they just part ways and live their lives the best way they can.
How do you cope with female attention?
Even as a young man when I was in secondary school and in the university, and when I was a bachelor I had a couple of girlfriends. I didn't bother; it's something that comes when it comes. I was not and still not a hustler when it comes to women. I'm a very careful guy too because I don't want anything concerning women to rundown my integrity or bring me down. At every given time when I was not single, I might have a girlfriend or sometimes two at  a time. Sometimes it was not easy to maneuver.  You will sometimes want to keep it down to one person at a time. Even now that I married I cannot tell you that girls will not be coming around to see if you want to give them the opportunity. One has to be careful in this day and age, especially with all these diseases flying around. Why should you want to engage yourself with something that will endanger your life?
You seem to have a good dress sense?
When it comes to dressing I can tell you that this was something I learnt from my father from watching the way he used to dress in those days. I'm particular about what I wear. If I'm at home I am the most casual person you could think about. For the public, you have to groom yourself properly, come out in a very good fashion and people will see you as somebody they want to talk to or somebody they want to associate with. Sometimes people come out in fashion that when somebody sees them they don't even want to look at them twice. I am always fashion conscious, even when I was in secondary school. When I was in the United States, I was one of the best dressed guys. You don't have to own a lot of clothes, you only need to know how to coordinate it, so that when you step out, you will look good. Just have a few, keep them neat and clean, have a nice hair cut, groom yourself in a way that when you come out you even have self-esteem. When you get out there you will be stepping out with the confidence that comes from knowing that you are cool. Nobody needs to tell you. After I dress up I look at myself in the mirror. Then I dash out there, knowing that I am cool.
At 61, you look good. How do you keep in shape?
I always tell people that if you want to live a healthy life you have to sacrifice a lot. For me, I discovered that early working out is very vital in life. I started doing my exercises about 30 years ago. I go to the gym, sometimes I use the treadmill. At home, I have to get on the treadmill and also do push ups.
So in essence, I start my day with working out, because if I don't do it, I don't feel like I have started the day. After my exercise I take it easy; if I have anything to do I go ahead and eat my breakfast maybe after having my shower. You have to watch what you eat, because some people don't even watch what they eat. If you are health conscious you should know that at a certain age, you have to watch what you eat. Eat more of fruits and vegetables, lots of water to wash off the system and a lot of rest too. Try and stay out of stress. You cannot be engaged in several businesses at the same time. You need to identify one or two you can handle well without headache and stress. Then try your best and manage those ones. But some people will want to get to Abuja, grab this or that contract, etc. Given my background, if I want to be in Abuja everyday, with my name and exposure I know I could have been making lots of money but when you think about life, especially at this age what else can you do than to relax and nurture what you have already and take life easy. But some people are never satisfied. Even at 60 they want to build a skyscraper. Whatever you don't do when you  are getting to your early 50's, then forget about it and take it easy. For me, I'm health conscious, I make sure of what I eat, I do the right exercise, avoid stress and sometimes in the afternoon, I try to squeeze out about an hour and have a nap. Usually about 4 pm, I take my little nap, even if it is 30 minutes or an hour and I jump back to the office if there's anything to do, I continue. At about 7pm, I take it easy and relax. Sometimes, in Nigeria of today, people allow themselves to be bombarded by people. If you are coming to my house I have to know in advance. It has to be on an appointment, if not forget it because if you don't have that kind of schedule to deal with people, some people will just come to talk to you, come to annoy you with one thing or the other, I don't need that stress.
How did you get involved with WAHL Corporation?
My relationship with WAHL started in 1989 after I had a hair cut at a barber's shop in Lagos before I traveled to the United States. The barber used the old manual clipper. So when I got the US, I had this idea of introducing electric clippers into the Nigerian market. While there, I happened to call the WAHL operations people and asked them if I could distribute the product and they said yes. I started with two cartons (which contained just 12 pieces). I brought the clippers and distributed to some barbers. They bought them in less than one hour. After that I continued buying a little number at a time. Later the Director of Sales (Africa) then called me on the phone. He said that it seemed the Nigerian market would be a good place for them. He came down to Nigeria himself in 1990 for a first hand assessment of the market and saw very good potentials. We had to sign a contract, which allowed me to bring in a container load of 7000 pieces. At that time, I didn't even know how to market it.
Challenges
We have had to grapple with the problem of fake clippers. We started seeing this problem of fake clippers right from 1996. Then Nigerians could not even differentiate between our products and the fake ones. If you buy the fake one before you know it , the clipper will start burning your scalp and giving you bumps. Since these fake clippers came into the market, we have been struggling to make a margin because they will sale their own products for N1,000 while the Wahl clipper is sold at about N7000. This genuine clipper can last up to 15 to 20 years. All you have to do is change the blade but fake ones break down fast, constituting health hazard to the user.