Jonathan 2011: Northern Youths Hold Anti-Jonathan Rally In Kaduna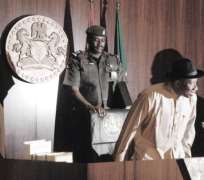 KADUNA, Sept 12, (THEWILL) - THE Northern Youth Consultative Forum (NYCF) is set to organize a rally in Kaduna aimed at stopping President Goodluck Jonathan from contesting the presidential election in 2011.
In a communiqué issued by the Northern Youth Consultative Forum at the end of a meeting held in Kaduna which was signed by the National President of the NYCF Malam Abubakar Hayattu Girei and the National Secretary General of the Forum, Aminu D. Muhammad respectively, the Forum said it wants the present administration led by Goodluck Abele Jonathan to maintain the status quo as embedded in the power shift gentleman agreement of the PDP.
The communiqué said if President Jonathan elongates or extends his time in whatever way, it will not be in the interest of the nation's democracy and Nigerians in general, adding that there is a glaring evidence that President Jonathan has directly or indirectly heated the polity by showing his interest to contest come 2011
According to the communiqué, Northern Youth Consultative Forum will resist any attempt by the president to contest, while expressing its dismay over the unfolding issues by the federal government, alleging that within two months of the administration of Goodluck Jonathan, series of bad policies that jeopardized the Northern interest have been implemented like, the stoppage of the dredging of River Niger which was initiated and awarded by the late President Yar'adua aimed at improving sea transportation and boost economic activities in the hinterland, removal of top Northerners at NNPC which is now filled with his kinsmen and now retiring senior military and police officers from the Northern region.
The communiqué also expressed worry on the federal government's refusal to tackle the menace of poverty and unemployment despite the fact that it poses a great challenge to our society, particularly in the north where majority live in abject poverty, adding that the recent survey showed that the Nigerian foreign reserve has fallen drastically.
The Northern Youth Consultative Forum urged President Goodluck Jonathan to continue with the good policies of the late President Umaru Musa Yar'Adua who during his lifetime provided people-oriented programmes through honesty, transparency and his crusade in the fight against corruption.
The communiqué also stressed the need for Mr. Jonathan not allow the seven point agenda of the late president Yar' Adua to die because of his personal interest.