Ajumogobia Leads TeamTo DC For US-Nigeria Binational Meeting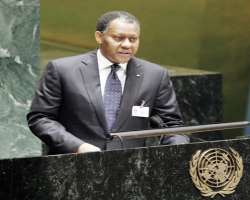 PHOTO: NIGERIA'S FOREIGN AFFAIRS MINISTER, MR ODEIN AJUMOGOBIA.

San Francisco, Sept 10, (THEWILL) – Nigeria's Foreign Minister, Mr. Odein Ajumogobia (SAN) will lead the Nigerian delegation to Washington DC for Monday's third full working group meeting of U.S. – Nigeria Binational Commission, hosted by the Council on Foreign Relations.
The two-day-talk which ends on September 14, 2010, according to a release from the United States Department of State, will focus on the Niger Delta and Nigeria's role in regional security.
The United States delegation will be led by Assistant Secretary for African Affairs Johnnie Carson.
The DOS said, "The first day will focus on the Niger Delta, with discussions centered on progress towards addressing economic and infrastructure development, social service delivery, and state governance issues", while "talks on the second day will focus on Nigeria's regional security role and bilateral cooperation in the region."
On April 6, 2010, U.S. Secretary of State Hillary Rodham Clinton and Nigerian Secretary to the Government of the Federation Yayale Ahmed inaugurated the U.S.-Nigeria Binational Commission, a strategic dialogue designed to expand mutual cooperation across a broad range of shared interests.
The Commission is a collaborative forum to fortify partnerships between the United States and Nigeria. Four working groups have been formed: Good Governance, Transparency and Integrity; Energy and Investment; the Niger Delta and Regional Security Cooperation; and Food Security and Agriculture.
Governors of Nigeria's oil rich South South states are expected at the binational meeting.