2011: Group Threatens To Take Jonathan To Court If…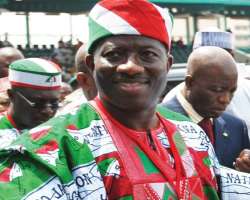 PHOTO: PRESIDENT GOODLUCK JONATHAN.

JOS, Sept 10, (THEWILL) - Goodluck4Nigerian Movement, a political association has warned that it would consider 'legal action' against President Goodluck Ebele Jonathan if he declines to contest next year's presidential election.

Coordinator of the group, Mr. Charles Sylvester, told journalists in Jos that Jonathan would be betraying the trust and confidence of Nigerians should he decline to contest.

"He will be betraying the trust of millions of Nigerians who see this particular opportunity as a time or threshold in history where somebody that they identify with can come and change their status and you know that the hopes of millions of generations of Nigerians yet unborn will be shattered because the president has given in to bullying and bullying is not a culture that should be acceptable in the Nigerian society," he said.
"And for us in the UK, it is not an empty threat because we in the UK believe in what we say and I can assure you that if President Goodluck Jonathan does not run for the presidency, we will consider taking a legal action against him for betraying the trust, the aspirations and the hopes of millions of impoverished Nigerians," Sylvester added.
He said that it is natural that Jonathan should given the chance to continue the Yar'Adua/Jonathan ticket, so that he could consolidate on the achievements of that ticket.
"We in Jonathan4Nigerians Movement share the vision of President Goodluck Jonathan that, there should be good governance, leadership and accountability in Nigeria," he told journalists.