2011: ICPC TASKS ASPIRANTS ON CORRUPTION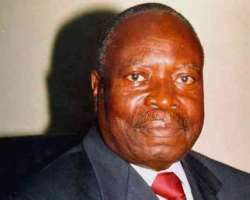 ICPC Chairman, Justice Emmanuel Ayoola
CHAIRMAN of the Independent Corrupt Practices and Other Related Offences Commission, Justice Emmanuel Ayoola has challenged presidential aspirants for the 2011 election to make public their blueprint for the fight against corruption.
Ayoola also wants the aspirants to pledge their commitment to the anti-corruption crusade.
He called for a review of the country's statute books, which, he said, presently makes it almost impossible to scrutinise government books and records.
Except for matters capable of compromising the national security, he argued that no aspect of government activities should be shrouded in secrecy or kept away from public scrutiny.
Ayoola bared his mind during a lecture titled, 'Nigeria at 50, the realities of the fight against corruption,' organised by a group of intellectuals known as 'The Forum,' at the University College Hospital, Ibadan.
The chairman said that making pledges by aspirants would underscore the political will of leaders to move against corrupt elements in the society if elected, particularly through adequate funding of anti-graft agencies.
He said it would amount to sloganeering and insincerity for the aspirants to merely promise to tackle the ills besetting the country without telling the people how they would end the scourge.
The chairman also asked governorship aspirants and others jostling for political offices in the next general election to signify their preparedness to allow unfettered war against corruption.
As electioneering for the 2011 election becomes more active, following the release of the timetable by the Independent National Electoral Commission, the ICPC boss said that the people must be vigilant.
The chairman said, 'The pledges by those aspiring to political offices must be backed by religious leaders as moral guarantors for the fulfillment of the pledge.
'This requirement is needed for the transformation and behavioral change of the nation and its citizenry. Nothing short of this can ensure the end of corruption in Nigeria.
'This is the season when lofty promises are made. People should know that any candidate who promise to tackle the ills of the society or develop our nation without a clear perception of how he intends to tackle corruption is either insincere or naïve.
'Empty promises, sentiments and rhetoric will not help in the fight against corruption. We can only achieve much by commitment and collective action.'
Unlike the practice in other parts of the world, Ayoola said it was now commonplace to find government institutions shielding information from the public; even when such would be required to dispel suspicion or mistrust.
'When any arm of government becomes unaccountable and resent enquiries about how it exercises its power, it becomes a monster that holds the rest of the nation hostage.' he said.