Presidential Election: 'I Will Contest' - Jonathan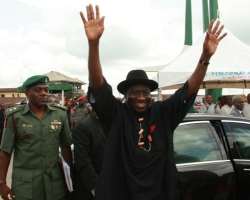 ABUJA, Sept 08, (THEWILL) - After months of speculations by the media, President Goodluck Jonathan yesterday informed Governors of the PDP controlled states that he will run in the 2011 presidential election and that a public announcement will be made on September 18.
The president dropped the hint in a meeting with PDP Governors at the Villa in Abuja immediately INEC released the timetable for next year's general elections. Jonathan's meeting is part of his ongoing consultations ahead of 2011 polls.

THEWILL gathered that the President used the meeting to also resolve differences between himself and the Rivers State Governor, Mr. Rotimi Chibuike Amaechi.

"The political differences between the President and Governor Amaechi have also been resolved. So there is peace between both camps," a source familiar with the meeting said.

THEWILL also learnt that that some of the Governors being hunted by the EFCC did not attend but Jonathan told them that time was not on their side hence the need to make the pronouncement.

Some of the Governors in attendance according to our source showed signs of resistance, notably the northern Governors who still believe that presidency still remains there.

INEC through its Commissioner in charge of media and publicity, Prince Solomon Soyebi yesterday announced the timetable to newsmen at the commission's headquarters in Abuja at about 5.15 pm Nigerian time. He did not field reporters' questions.

The time table indicated a strict compliance with the new Electoral Act and a tacit confirmation that the revised 1999 Constitution of the Federal Republic of Nigeria has taken effect, thus consigning the various arguments and debate as to the propriety or otherwise the need for presidential assent to the dustbin.

The time table as tight as it were also fixed between next week September 11 and October 30, 2010 for political parties to conduct their primaries and the issuance of notice of elections would be on October 13, while public campaigns by parties commences on October 17, 2010.

In the same vein, the collection of INEC forms CF001 for affidavit and form CF002 for list of candidates by political parties would start on October 19 and end October 22, 2010.

But the last days for submission of same forms to the INEC headquarters for candidates is; National Assembly, November 22, 2010, Presidential candidate, November 29; and December 6, 2010 for Governorship and State Assembly elections.

Political parties wishing to withdraw or substitute candidates for the elections have the following dates to contend with, November 30, 2010 for National Assembly candidates, December 7, 2010 for Presidential Election and December 14, 2010 for governorship and State Assembly elections. The last day for the submission of nomination forms by political parties is December 14, 2010.

Nonetheless, INEC say campaigns officially close on the following dates; for National Assembly, January 14; Presidency, January 21; Governorship and State Assembly elections, January 28. All electioneering campaigns end on the eve of their respective poll.