Boko Haram Storm Bauchi Prison In A Jail Break Move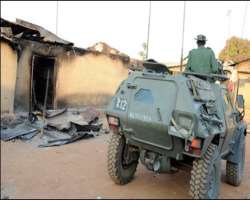 BAUCHI, Sept 07, (THEWILL) - A number of people were killed today in a shoot-out between suspected members of the dreaded Muslim fundamentalist sect, Boko Haram who had stormed the Bauchi prisons with the intention of setting free some of their members awaiting trial from last year's religious crisis, which claimed many lives and properties worth several millions of naira.
The fundamentalists reportedly stormed the prisons at about 6.30 p.m. immediately after the breaking of fast by Muslims and tried to force themselves into the prison, a move which was resisted by the armed prison warders but whose fire arms could not match those of the fundamentalists, who were well armed.
It is not yet clear how many of the security men were gunned down by the invaders. The operation was said to have lasted for about thirty minutes as the sect opened fire from the gate killing the security men and forcefully gained entrance into the Prison.
THEWILL gathered that they broke the locks and gained access to the innermost and most secure parts of the prison. The entire walls of the prison came crumbling as inmates shouted as they made their way out of the prisons.
Bauchi was one of the operational bases for the dreaded sect whose activities was crippled owing to a crack down on them last year and the killing of their leader Mohammed Yusuf in Maiduguri, Borno state.
It was pandemonium as people around Emir Drive, Bakaro, Karofin Madaki, Kobi and Railways areas ran for cover from stray bullets and the fundamentalists were said to have shot sporadically with their bullets hitting bystanders who did not envisage anything as they prepared for the breaking of the Moslem fasting of the month of Ramadan.
State Police Commissioner, Danlami Yar'adua confirmed the crisis in a telephone interview with THEWILL, saying, "Yes, there was an attempt by suspected persons to break into the Bauchi prisons and they were said to be armed. We have mobilized our armed anti-riot mobile policemen to the prison to ensure that the situation did not get out of hands."
The police boss added that, "for now I cannot tell you whether there are casualties or not, but as soon as we have the details, you will be duly informed but let me assure you that the situation is under control as our men are battle ready to check the crisis."
THEWILL learnt that residents of Bauchi had deserted the streets while armed security men had taken over the patrol of the town to ensure that the crisis did not spread to other parts of the town, while the state government has asked people to remain calm as the situation is under control and will not be allowed to spread.