Corruption: UK MP Supports Travel Ban On Obasanjo, IBB, Atiku, Others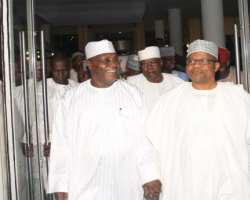 PHOTO: R-L: PRESIDENTIAL ASPIRANTS, GENERAL IBRAHIM BABANGIDA AND ALHAJI ATIKU ABUBAKAR.

SAN FRANCISCO, Sept 07, (THEWILL) - Rising new Member of British Parliament(MP), Chuka Umunna, has thrown his weight in support of the travel ban campaign against alleged corrupt Nigerian politicians, notably, former President Olusegun Obasanjo; former veepee, Alhaji Atiku Abubakar; former dictator, Ibrahim Badamasi Babangida; Nigerian Ambassador to South Africa, General Buba Marwa; former Attorney General, Mr. Michael Aondoakaa, Speaker of the House of Representatives, Honourable Dimeji Bankole and their families, to any member-country of the European Union, apart from freezing their assets.

Mr. Umunna the Labour Member of Parliament (MP) for Streatham, with an increasing profile was speaking recently, during a meeting with the Citizens for Change, a United Kingdom registered charity organization made up of UK based Nigerian professionals at Portcullis House, the offices of the Houses of Parliament in London.

At the interactive session Mr. Umunna spoke of his disappointment at the state of Nigeria and Africa, reminiscing about the early 1990's when the belief was that in the wake of Nelson Mandela's release, Nigeria and South Africa would be the drivers of Africa's renaissance.

Umunna blamed Nigeria's persistent under-development on corrupt leadership even as he planned to be a strong advocate for good governance and anti-corruption in the House of Commons and to engage Ministers and colleagues on Her Majesty's Governments policies towards Nigeria, ensuring anti-corruption was high on the agenda.

Speaking at the occasion, the Chairman Board of Trustees of Citizens for Change, Mr. Theodore Emiantor (a Registered Auditor from Edo State) congratulated Mr. Umunna on his election and reiterated the pride all Nigerians felt at having one of their own in the 'Mother of Parliaments'.

He explained that Citizens for Change was dedicated to improving the welfare of people in Nigeria through community development projects and anti corruption and good governance campaigns.

He further stated that the key to resolving Nigeria's problems were credible elections which informed the current campaign in which the group has written to the Home Secretary Theresa May, the US Office for Asset

Control, the US State Department and Baroness Ashton the EU Foreign Minister requesting immediate travel bans and financial sanctions on all corrupt Nigerian politicians, their family members and agents.

Explaining further the reasons behind their current actions, Chidi Nwaonu (an Engineer from Imo State) stated that the impunity with which these corrupt individuals operated, took away all incentive for honest, competent people to contest elections or work in Government.

Nwaonu compared corruption in Nigeria to that in countries like Indonesia, where the dictators held onto economic and political power but still invested their loot in their own country's infrastructure and

economy whilst Nigeria politicians merely stole as much as possible and salted it away abroad, adding that a travel ban and asset freeze would force corrupt officials and their families to remain in Nigeria and endure the same conditions their actions cause for their fellow citizens.

Mr. Umunna was in full support of the initiative and promised to support the effort as much as he could by further researching the Governments policies towards Nigeria and putting relevant questions to Ministers and Parliament.

Umunna who also shared his personal experiences of Nigerian politics recounted the untimely death of his father after he narrowly lost a gubernatorial contest in Anambra state in the early 1990's after he stood on an anti-corruption ticket.

He also cited the example of such professionals as Dr Ngozi Okonjo-Iweala who had left a lucrative job at the World Bank, worked hard and effectively as the Minister of Finance and left having made a positive impact with no stain on her character.

Umunna however promised to work with and support Citizens for Change on future projects.