Minister Confirms 700 Escaped From Bauchi Prison During Attack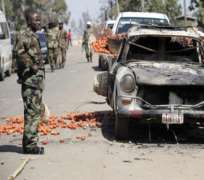 JOS, Sept 08, (THEWILL) - Minister for Interior, Mr. Emmanuel Iheanacho has confirmed that Tuesday evening's attack on Bauchi Prison was a jailbreak.
He said about 700 inmates were set free by the attacking Muslim Sect, Boko Haram.
The Minister said the whereabouts of the 700 inmates could not be ascertained between when the attack occurred and Wednesday morning until some of the inmates on their own volition started returning to the prison.
Mr. Iheanacho, who spoke during a press briefing in Abuja, said about 120 inmates who had had so far returned to the prison.
The Bauchi State Police Commissioner, Danlami Yar'Adua in a separate briefing in Bauchi on his part confirmed that four persons lost their lives in the attack.
He said a soldier and a policeman were killed, while some of the injured prison officials are receiving treatment at some hospitals within the Bauchi metropolis.