I'm in A Loving Heterosexual Relationship---Susan 'Goldie' Harvey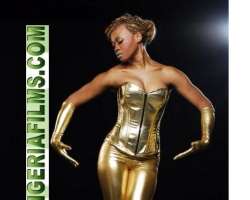 Goldie is every thing you think and much more – enjoy excerpt
A lot can be said about you but one thing remains – looking back from 'Komolé' to 'You know it', you're a very musical person – how did music start for you?
Music has always been part of my life. Growing up as a kid, I'd always hear music in the house – Dolly Parton, Abba, Whitney, Michael Jackson, etc. My mum was very musically inclined, she was a member of the church choir and I was encouraged to join the junior church choir. In choir practice, we would study music and I actually learned how to write music for a bit. In my secondary school days, I always took an active role in all stage plays and musical dramas. So I guess for me, that artistic flair has always been there. I never thought I'd go into music professionally though, but in the back of my mind, I'd always felt I'd end up in some form of entertainment role or the other. In essence, I'd say music sought me out, not the other way round…
What do you do besides music?
It's a very tasking business'. These days I have little time for anything else.
You are the most consistent female artiste and with a three album deal with Kennis music, you would be staying very much on the scene, what drives you – why do you stay consistent?
I'm flattered you say I'm consistent; I think it's the grace of God and because I stay true to myself. I don't follow the bandwagon so to speak and I'm very expressive, both in my lyrics and my dress sense. I think I tend to embrace subject matters most people find uncomfortable and shy away from. I've always been this way, and I'll always be this way; Isn't that consistent..?
"Komolé", "Spin Me", "Shift", "Nothing has Changed" and now, "You Know It" – Let me guess you love the camera and taking picture?
It's about selling the music… Entertainment in a whole has gone visual. The best way to sell yourself and your music is to make a video… I will say for the record though, that I love shooting music videos, that's one of the highlights of being in my profession; I like bringing my fantasies to life. A good music video is just one of the many ways to do this.
One of the things I've always wanted to ask is how you came about the name/moniker Goldie?
My friends in the UK nicknamed me Goldie because of the colour of my skin and hair… You see..? I was born a red head. I like to refer to myself as a "ginger albino; bronze skin, bronze hair. As a result I go very red in excessive sunlight. When I was very young, my mates used to taunt me by calling me "Afin Pupa "and the like. But as I got older, I realized that extreme sunlight wasn't good for my skin and stayed out of the sun. Eventually, in the UK..? My skin tone evened out cuz the weather is more temperate there. Hence the nick name. I decided to take the name as a stage name cuz it came to mean so much to me, gold is rare, is precious, every1 wants a bit of it, or a lot of it. Lol…And it's also very expensive and can be used to define all things good… I wanted my brand to stand for all these qualities and more.
You said in an interview, you were a tomboy – that's kinda difficult to believe, tell about that?
I was a tomboy as a teenager; yes that's true..! My dad wouldn't let me grow out my hair till I finished secondary school, I remember him saying that's one of the ways I can get distracted, cuz beautiful long tresses attract boys; boys attract dating and sex; which in turn leads to poor grades and pregnancy… I was also very active; sport wise, and very physical… I could lift people twice my weight; in those days, if I got into fights, my way of winning would usually be to lift my opponent up and put him/her on the ground and sit on them [smiles] and lastly, I was a late developer; I didn't start growing boobs till I finished secondary school. So all these put together, made me a tomboy. No boy in my school ever asked me out. Hahaha! I met an old school mate of mine recently and he said; "Susan"!!! You've grown Boobs! I was like… "Yeolz Keh,"!
Let's talk about your album, producer, number of tracks, – why are you calling it 'Gold'?
It's a 16 track album, I worked with the in-house Kennis Music producer; Master Kraft. Extremely talented individual, eLDee the don, Sarz Beatz he's also a very talented producer, OJB Jezreel – you all know him, he needs no introduction, Neil Phi in Scotland, and Kas (fimile) – I featured him on a track. Gold is a rare precious metal; it's extremely expensive and is seen by many as an investment. I believe my album will be all these qualities. Baba Keke (Kenny Ogungbe) came up with the name and after some thought, decided it would be apt.
Do you have a favourite track on the album already? A track we should watch out for?
Oh! All the tracks on the album are great. I love them all because they all stand for something special and I relate to all of them in different ways. That being said though, "Who we are", which is the last track on the album is one I really like…
Let address it once and for all – what is Goldie's sexuality?
Hahahah… I'm in a loving heterosexual relationship which I prefer to keep private.
Thanks.