JONATHAN WILL SET RECORD BY NOT CONTESTING — BAMANGA TUKUR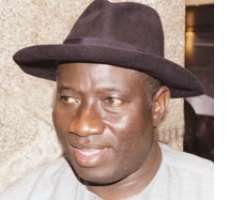 A member of Jonathan's Presidential Advisory Council, Alhaji Bamanga Tukur, made the assertion in an interview with the Daily Trust in London.
He said the president would have the best opportunity to oversee credible, free and fair elections in the country if he decided not to vie for the presidency.
Alhaji Bamanga, a one-time governor of the defunct Gongola state and Minister of Industry, however, lamented that the president 'is in a situation where even his own people will not allow him not to contest'.
'They will push him into it. But he didn't put himself where he is now; God put him there', he said, and noted that Jonathan's ascendancy to the presidency in view of Nigeria's political antecedents was like a political miracle.
President Jonathan is expected to declare for the presidency in less than two week's time, according to his National Adviser on National Assembly Matters, Alhaji Abba Aji.
Asked if he advised the president against contesting, Alhaji Bamanga said: 'I won't tell you if I advised him to contest or not. But he does not restrict me on what I should advise him'.
'Nigerians are free to offer their advice to him, but it is up to him and his people to decide on whether to contest for the presidency or not', he stressed.
Alhaji Bamanga, who is also the Executive President of the African Business Roundtable, made a case for Africa to have a veto power at the United Nations so that the continent's views on world issues would be given due consideration
As things stand out now, Africa has no real voice, he said, pointing out that it was only fair for the continent to have a veto power so it could vote against issues inimical to its interests.
He urged leaders in Africa to use the vast resources the continent was endowed with to improve the living conditions of their people and also not to allow tribal, regional or other primordial differences to stop them from 'being good human beings and being fair to humanity'.