BAHRAIN ACCUSES SHIA ACTIVISTS OF TERROR CAMPAIGN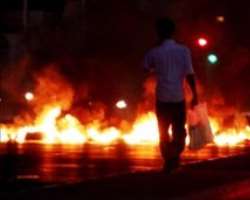 Prosecutors in Bahrain have accused 23 Shia activists of planning to overthrow the state's Sunni-dominated government.
The men, arrested since mid-August, belonged to a "sophisticated terrorist network" that was planning and executing a "campaign of violence and subversion", an official said.
There has been a series of Shia-led protests in the Gulf state ahead of October's parliamentary election.
Bahrain's majority Shia community has long complained of discrimination.
"This sophisticated terrorist network with operations inside and outside Bahrain has undertaken and planned a systematic and layered campaign of violence and subversion aimed squarely at undermining the national security of Bahrain," public prosecution official Abdulrahman al-Sayed said in a statement.
"The leaders of the network have been accused of several crimes including the planning and instigation of violence, conducting a wide-ranging propaganda campaign against the Kingdom and seeking to overthrow the regime by force," his statement continued.
Bahrain is unique in all the states of the Arabian Peninsula in that it has a Shia majority, roughly 65% of the population.
However, the ruling elite is Sunni. Shia Bahrainis say they have been discriminated against for years.
Among those being charged is Abd al-Jalil Singace, head of the Shia-dominated Haq Movement for Liberty and Democracy.
He was arrested in August on his return from London where he had been giving a lecture on human rights in Bahrain.
The secretary general of the Haq Movement, Husain Mshaim, is also being charged.
Mr Singace was arrested with four other activists in 2009 and held for several months on charges of plotting to overthrow the government.
He later received a royal pardon after weeks of protests.