The Amazing World Of Ali Nuhu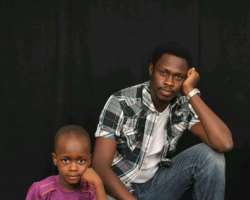 His Acclaimed And Dazzling Role In Wetin Dey

This is the amazing world of Ali Nuhu,whose foray into Nollywood started from Kannywood. Whenever you ask the high sprited actor why he chose acting as career, after studying geography at the university, he would simply say: "I have always wanted to act, since I was a boy. I knew I would act someday, but how it would start was unknown to me."
His career got started when he read an advertisement. "It was about an audition and they needed cast for a film. That was after my graduation. However, the film that shot me to limelight was a Hausa movie called Dijangala, which bagged the award for Best Hausa Film at the Zuma Film Festival in Abuja, in 2008. Though it was a re-make of the old Dijangala, it was what I needed to be hot in the Hausa film market. Since then, I have been in the Hausa genre of Nollywood before Wetin Dey?"
The TV-soap opera, Wetin Dey? also propelled the acting career of Ali, who is simply known as Sarki or Master of the Game by his colleagues. Getting the role of Ibrahim in the drama series, according to him was by a stroke of luck. "I came in late," he revealed. Late? Didn't he want the role from the on set? "Already, they had taken the pilot copy to London for selection but they needed to make changes. I was invited for an audition in Kano and was told that it was a BBC-sponsored stuff. There were four directors on set and, after my audition, I was chosen to play the role of Ibrahim and we were on set for a year and three months." Ali Nuhu played the role so well you would think he suffered from the deadly virus.
Ironically, he confessed: "I didn't know about HIV/AIDS or even the stigmatisation of victims until I got on the set. I got to meet HIV positive people and we learnt from them in interpreting our roles. The role of Ibrahim was a true life story of a man who knew he had AIDS and, to cover up, he quickly married his cousin. He was afraid of stigmatisation and discrimination. So he continued covering up his illness until he met his waterloo. I believe the society made Ibrahim who he was and not because he was callous or wicked."
Based in Kano, Ali's handsome face has graced many Hausa films and he is one of the most celebrated stars of the Hausa movie world, who have crossed borders. Attesting to the fact that the Kannywood is getting more vibrant daily, Nuhu says their audience is not only northern based. "From Abuja to the East and neighbouring African countries, we are watched and our stars celebrated. In a year, we produce over 200 home videos. The market is really doing well, save for the activities of pirates."
How has the TV drama influenced his life? "We were fighting a cause, but I was told that people could mistake me for HIV positive person, but I didn't mind, because we wanted to make viewers know that HIV/AIDS victims are people like us and should not be discriminated against. That was why I put in every skill I have, but some viewers believe I am HIV positive in real life. I am not. I know my status; after all, there is no skeleton in my cupboard. That I play a role on television does not mean that I am that person; roles in movies are meant to be translated accordingly. I am Ali now, but while on set, I could be anybody, based on the script. A true and professional actor should be able to translate the role giving to him very well."
So, who is this galvanising actor that holds the four aces? To his numerous female fans, who think Ali Nuhu is not married, this is indeed sad news: "I am happily married and I have two kids. My wife is quite beautiful and I would do anything to please her. I even give my scripts to her and anything she would not like, I would not do on set," he said. Is he saying he would not kiss or touch a woman on set just because his wife would not approve? "Though my wife is a Muslim, she is liberal and believes my profession is important. Often times, my roles on screen could have to do with women and she would not object to kisses or hugs. Romantic scenes are allowed but there is a limit."
Doesn't his religion, Islam, forbid it? "I am a professional actor and as long as what I am doing on set is not sinful, my religion would not frown on it. A lot of Nigerians mistake your roles on television or films for the real you. They have forgotten that the real you is different from the actor in you. I could dress scantily on set but would not do that in real life."
Ask Ali Nuhu if his wife gets jealous over his female fans and he would say: "Naturally, women are jealous and could get possessive over their husbands. I feel for wives of actors when female fans flock around them for photographs, autographs or make calls even late in the night. Naturally, my wife is not a jealous person but there was a time some rumour-mongers were all over town saying I was dating a popular Hausa actress. After an event, I gave the lady a lift and my wife saw us together. She was not angry, but she cautioned me to avoid being seen with that girl, because people could mistake our intentions."
"There are numerous female fans who would call endlessly. Some would even ask you if you were married, or still single. I would proudly say that I am happily married but there are some stubborn women who would continue beeping and making nonsense calls. When I could not control it, I got a software that helps blacklist some numbers from my hand-set. What the device does is that any number I don't want to answer would come in as unknown and would not ring. The phone would just beep."
You would not really blame him because if you happen to be with him a few minutes, Ali Nuhu would have answered numerous calls, say 80 and above, and would also record more than 100 calls, which his hand-set records as 'unknown.'
An exasperated Nuhu says, "That is how the calls keep coming daily. So, imagine what I would have gone through if I didn't get that device. Before now, I would receive so many calls that answering calls became a stress."
What if he is termed as being proud? "Anyone who is close to me and knows me very well would say that I am not snobbish. There are some calls which come in when I am on set or when I am busy. That I do not pick such calls does not mean that I am pompous or something. That I don't give attention to some stubborn female fans does not mean Ali Nuhu is a proud actor."
What about his fans on facebook, Twitter and so on? "It is really amazing, in fact it is beyond comment. I can say, I am really impressed with the way my fans make comments about me on Facebook and Twitter.
I asked him to post a photo on his wall on Facebook. Seconds later, we recorded the following messages and comments, most of them in Hausa language:
•Ghalee Lameedo Ali: Wallahi ba ka da na biyu. Kai ka danne, ka zarce su. U are d best. D best! D best!! kai musu fintinkau.
•Ibrahim Sulaiman: More xpirince on 'Sai Wata Rana,' the base actor in the world, Yaya Ali.
•Ibrahim Sulaiman: Help us to gate Adam A. Zango up the ladder for us pls.
•Abdullahi Musa Hadejia: Thank u 4 reviving FKD with dis great film.
•Usman Aliyu: Broda kowa ya bi. Allah Ya kara budi na alheri, amin.
•Rabiu Muazu: This is really interesting, I wish u the best.
•Babs Mohammed: dats nice mutumina
•Hussy Haske: 'Sai Wata Rana' rabuwa ba mutuwa ba, kwarai.
•Kabir Isyaku: I was amazed about your wonderful talent before, but i realised that peaople like U are very few in the movie industry. U are special among the specialists. Ur extraordinary talent proved U 2 be the best. Ali Zaki, keep up!!!
•Hadiza Ibrahim: Again! why 3? well, i cant afford to miss it, i luv that movie especially the song.
•Ibraheem El Escape: Sarki, I will try and get my copy with my frnd young zee.
•Yusuf Kabir Maitama: HELLO ALI, SAI WATA RANA IS THE BEST FIM ONE, TWO And THREE.
•Auwalu Capito Hamisu: Wao, film that make fall in love more to to my girl friend.
•Yakubu Laminu: MR. ALI NUHU Akwai wata budurwata da ta nemi kaset na SAI WATA RANA 1 da na 2, ta ba ni in gani, amma abin da na gani yadda ya kasance tsakanina da ita.
•Nasiru Danlami: MUNA SONKA, AMMA DAI A RIKA TUNAWA DA ALLAH( NA CIKIN QUR'AN).
•Yebo Yes: WHY DON'T U CUT THAT AFRO HAIR OF YOURS, JUST DO IT BECAUSE ITS DISTURBING, HONESTLY U R HANDSOME BUT YOU HAIR DOESE'NT DROP ME ANYWHERE.
•Liyatu Simon Tawasu: U are doing well Ali, but dont forget to continue promoting our culture, be at the but side, Nollywood and Hausa films;
•Habila Funtua: Ali may Allah helps u about what ever u do in ur long life.
That is just a brief peak into the amazing world of the great actor, and master of the game, Ali Nuhu. It appears only one or two percent of his fans are acquainted with internet, what if 50% of them could log on to the net to comment on his wall? By then, I won't hesitate to copy out all my archives in my blog and messages on facebook before the crash on the information super highway.