AN OPEN LETTER TO PRESIDENT JONATHAN: HOW TO RAISE $4.43B WITHOUT BORROWING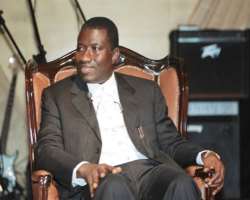 PHOTO: PRESIDENT GOODLUCK EBELE JONATHAN.
Dear Mr. President,

How to raise $4.43 billion without borrowing

With a deep sense of responsibility, a heart of duty and an utmost concern for the future of this great nation of ours, I write you this letter to offer my profound opinion on saving Nigeria from sinking into debt once again.
I am particularly disturbed by the decision of your government to increase the national debt portfolio by another $4.42791bn (about N664.18bn) in order 'to complete some negotiated projects and provide some infrastructures.'
Whilst the listed projects for which the loans are required are laudable and essential for our national development, I believe the government could explore other financing options including public-private partnerships (PPP) for the projects and only make borrowing a last resort if utterly inevitable.
It is noteworthy to consider the alarm raised by Abraham Nwankwo, director general of the Debt Management Office (DMO) that Nigeria's external loan is on the threshold of being unsustainable.
Also, just last weekend, the World Bank, in its presentation made to you by Isma'il Rodwan, the bank's head of mission in Nigeria identified the growing fiscal deficit as the major risk facing the Nigerian economy at the moment.
When it is considered that just only about four years ago, Nigeria was freed from the heavy burden of external loan when former President Olusegun Obasanjo secured debt pardons from the Paris and London clubs amounting to some $18bn and paid another $18bn to make Nigeria debt free, it is pretty too soon for the nation to be neck deep again in debts.
If Nigeria was freed from the burden of debt through an administration, it will be financially imprudent not to keep the debt profile low by the immediate successive regime.
I would like to offer here my 'unconventional' but useful suggestions as alternatives to borrowing.
New financing
In the past few years, the global economic outlook has been desperate and really, desperate situations do always require desperate solutions. The deep global economic downturn has made countries to search deep for different ways of sustainability and for raising money to ease their relief efforts and boost the economic stimuli.
One of the new but unconventional ways in which countries raise funds in this desperate time is by slamming heavy punitive fines on erring and corrupt companies. USA leads the way in this regard and the European Union is not left too far behind.

America, lately, is more interested in awarding heavy fines to companies (and their officials) if found guilty of any corruption or negligence than sending them to jail.
In applying the Foreign Corrupt Practices Act of 1977, the government has been making a great fortune from such indicted companies regardless of whether the crimes were committed in the US as long as the companies have operations in the country.
The Obama administration has not hidden the fact that under the US Clean Water Act, if BP is found liable for gross negligence it could face fines of more than $20bn. BP has already set aside sufficient fund to pay for this.
Also, the US government has already pocketed over $2bn from fines awarded against different companies like Siemens, Halliburton/TSKJ, Daimler, ENI and others because of their involvement in corruption in Nigeria.
The Next newspaper of 04 July 2010 reported as follows: "The revenue made by the United States represents fines paid by bribe givers: Siemens, Kellogg Brown & Root, Technip and Daimler AG, to the U.S. Securities and Exchange Commission and the Department of Justice in settlement agreements, for giving kickbacks to Nigerian officials in exchange for multibillion dollar contracts. And by the time investigations are completed in the $182 million Halliburton bribery scandal, which has so far yielded $917 million dollars for the U.S. government, the country is likely to rake in an additional N68 billion (approximately $449million) in fines from a former Halliburton executive Albert Jackson Stanley, two United Kingdom citizens, Jeffrey Tesler and Wojciech Chodan, and ENI of France, a member of the infamous TSKJ consortium. Already, Mr Stanley has been sentenced to seven years in jail and he is to pay $10.8 million in restitution. Tesler and Chodan, who allegedly coordinated the elaborate bribery scheme on behalf of the TSKJ consortium, have also been indicted by a federal grand jury in Houston and might forfeit $132 million to the American government."
Similarly, Germany was not any kinder to Siemens as the companies (which is a German company was smashed with a record fine. The World Bank even knocked $100m fine on Siemens for the same offence committed in Nigeria and barred it for 5 years from handling any World bank sponsored projects.
Also, the same Next newspaper reported that "Siemens was the first to enter into a settlement agreement with the SEC and the American justice department. On December 12, 2008, in a charge brought against it in a US District Court for the District of Columbia, the German company agreed to pay $350 million in disgorgement to SEC and a $450 million criminal fine to the justice department. The company had earlier paid fines of 395 million Euro (approximately $569 million) and 201 million Euro (approximately $285 million) to the office of the Prosecutor-General in Munich, Germany, over the same charge that it bribed Nigerian officials to corner four telecommunication contracts."
In February 2009, Kellog Brown and Root parted with $177 million and $402 million in payments it made to SEC and the department of justice for its role in the bribing of top-level Nigerian officials in exchange for the contract to build our $6 billion Nigerian Liquefied Natural Gas plant.
Two months later, the two U.S. agencies then went after German automaker, Daimler, and got it to cough out a total $185 million in fines to settle charges that it compromised Nigerian officials to award several vehicle supply contracts to it.
In June 2010, Technip, a member of the TSKJ consortium agreed to pay $338 million for its role in the bribery of Nigerian officials, America's total earning from enforcement proceedings in the $182 million Halliburton bribery scam alone now stands at $917 million (approximately N138 billion).
Away from Nigeria's scandal, the European Union regulators in February 2008 fined Microsoft a record $1.35 billion, for failing to comply with an earlier sanction. The world's leading software company was slapped with the fine specifically over the pricing structure it had set for licensing of its interoperability protocols and patents which breached EU antitrust law.
It is embarrassingly painful that none of the erring companies has been punished in Nigeria for these offences committed right in our country rather some of them are rewarded. There is no justification for the fact that other countries are making huge sum of money and we are looking the other way.
When the bribery scandal came to light, Siemens was blacklisted by the Nigerian government and was suspended from handling any government contracts. But our government under the administration of late Umaru Yar'Adua soon lifted the suspension, saying the company had repented. The company did not pay any fine and nobody was prosecuted for the crime. In all, the German Engineering has paid over €2.5 billion so far in fines and long-running legal fees without Nigeria benefiting from it.
Unbelievably, on 19 August 2010, at the Executive Business Roundtable of the Nigerian Economic Summit Group's (NESG), Alain De Cat, the Chief Executive Officer (CEO) of Siemens Nigeria Limited said his company would pay the price for the bribery scandal involving it and some top government officials, if fined by the federal government.

International laws, standard and procedures allow Nigeria to punish and seek compensation from any company operating within her territory that is found guilty of erring or corrupt practices within and even outside her shores through negotiation administrative and/or legal procedure.
Raising $2.0bn
Nigeria can raise as much money as the USA from punishing corrupt companies, more so that the corrupt practices actually took place in our country. If the US can evidently raise $2.0bn in the process, we can as well raise the same amount of money or even more by applying heavy fines on all multinational companies that have been implicated, indicted and convicted of one form of corruption or the other our country. The list of company should include (but not limited to) Halliburton, Siemens, Daimler and Anammco, Willbros International Inc, Securency International Pty Ltd, Technip, TSKJ, ENI, Pfizer; and Kellog Brown and Root. Also, the Nigeria collaborators should not be spared.
This action will not only bring financial reward, it will tell the whole world that Nigeria is no more the breeding place of corruption and it will show Nigerians alike that your government is serious about fighting corruption.
Such an action will an answer to the postulation that "It is quite unfortunate and pathetic that foreign countries have brought to justice those who have engaged in bribery while doing businesses in Nigeria, while Nigeria, the victim of these corrupt practices, has not lifted a finger in such despicable acts against the country" - Bukola Oreofe, executive director, Nigeria Liberty Democratic Forum, a New York-based pro-democracy group.
Raising another $1.5bn
The global attention has been drawn to the problem of oil spill due to the recent leak in the Gulf of Mexico. With all the attention, Nigeria's agony in the Niger Delta devastatingly dwarfs that of the Gulf because it's a spill scourge that is continuous for over five decades. The Niger Delta region continues to witness this due to poor regulation and endemic corruption of the government and the regulatory body. Many lives and means of livelihood have been destroyed as a result.
If the US government is going to slam as much as $20bn on British Petroleum for a one-time spill which the company is already prepared to pay, why can't Nigerian government give the oil companies a $5bn bill for 50 years of continuous oil spill.
The government can use $3.5bn to clean up, develop and compensate the people in the region and apply $1.5bn to the projects for which loan is being targeted.

International laws, standard and procedures allow Nigeria to punish and seek compensation from any company operating within her territory that is found guilty of erring or corrupt practices within and even outside her shores through negotiation administrative and/or legal procedure.
Raising the balance of $0.92791bn
Lately, some former banking executives are being tried for corrupt practices that have brought their banks into insolvency before the central bank of Nigeria (CBN) came to their aids. Subsequently, the Economic and Financial Crimes Commission (EFCC) has successfully traced assets worth several billions of Naira to them.
As these executives stand the risk of languishing in jail for many years, the government can enter settlement agreement with them to forfeit 60-70% of the assets traceable to them in buying their amnesty. Doing this, the government can sell off the assets, pay back their loots in their various banks and keep the rest. 70% of assets are not too little a price to pay for a crime.
I hope my suggestions will be considered so that we can save the country of our fathers for the sake of our children.
I do hope to follow this up with a suggestion on how to raise one trillion naira (N1tr) to improve our schools without borrowing.
I wish you the best if you decide to run for the 2011 election.
Sincerely,

Rufus Kayode Oteniya – [email protected]


Disclaimer:

"The views expressed on this site are those of the contributors or columnists, and do not necessarily reflect TheNigerianVoice's position. TheNigerianVoice will not be responsible or liable for any inaccurate or incorrect statements in the contributions or columns here."
Articles by thewillnigeria.com