HOW I SUCCEEDED DR. GUMI – SHEIKH ALHASSAN JOS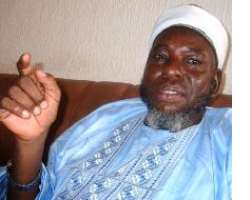 Before coming to Jos, I started my primary education at Dan Makama village, also in Sule Tankarkar local government, but my father was opposed to western education. He took me to our relatives at Jobi and put me under the care of an Islamic cleric called Malam Adamu Na Jobi. At that time, in the entire western and eastern axis of Kano State, there was no Malam like him. From there, I relocated to meet his brother, Malam Muhammadu in Jos. Malam Adamu is actually the son of my mother's younger brother. All my maternal siblings are Malams. I resumed my western education and continued with my Islamic education when I got to Jos.
In 1972, one Malam suggested that we should go to Maiduguri, and within one year of getting there, I memorised the Holy Qur'an. Then I returned to Jos. At that time, there was no town in the whole of northern Nigeria that had people who have memorized the Qur'an like Jos. Somehow, most of them have now turned to trading, but there are still a lot of Malams in Jos. I continued my search for Islamic knowledge under great Malams like Audu Alkalin Shendam and Malam Usman Misau. In fact, it was the late Sheikh Abubakar Gumi who advised me to study under Malam Audu, describing him as the best Malam in the whole of Jos.
Around 1975 when the Universal Primary Education (UPE) was introduced, I had started teaching Islamic knowledge in primary schools by then, and a course was organised for Islamic teachers who had a little western education. That was where I met Malam Samaila Idris; although he was still in the army, he was one of our teachers. Then, we became very close. I remember one particular day when the Head of Imams of the Nigerian Army, one Major Habu, came to Jos. The visitor did not understand Hausa and Samaila Idris' English was not fluent enough to sustain much conversation. So, they switched over to Arabic and spoke for about 20 minutes. I was very impressed, and decided to enrol for Arabic studies in some of the schools that had been opened by the government of Saudi Arabia. In 1979, I applied to Arabic Teachers College, Katsina and sat for the exam and passed it.
I was interviewed by 13 Arabians and afterwards, they recommended that I should be enrolled straight in form three. I declined. They insisted that my knowledge of Arabic qualified me to be in either form three or form two, but I stood my ground that I wanted to be in form one. In the class, I was teaching my class mates and every day, about 50 of them would cluster around me at 4pm. In the 1984/85 session when we finished school, I was the best all-round student as I received prizes in Arabic, Islamic studies, Education, History, English and Mathematics. I came first in all these subjects. However, I bought a copy of the Oxford English textbook and Brighter Grammar in order to improve my English.
Did you continue learning at home after leaving Arabic Teachers' College, or did you proceed further?
I proceeded to Bayero University, Kano, where I did a Diploma course in Hausa, Arabic and Islamic Studies in 1987. Unfortunately, I had an accident on my way to receiving my admission letter and broke a leg. Two weeks before the exams, I limped to the school, but Professor Kabiru Galadanci, who was the Dean at that time, discouraged me from writing the exam. He advised that I should wait till the following year and promised me automatic admission. I asked him to allow me write the exam and if I failed, I should be given the automatic admission. He warned that the exam was difficult, but I insisted that he should allow me sit for it. I collected hand outs from fellow students, read them and sat for the exam. We were 79 in the class and six of us came out with upper credits.
Did you stop at the diploma level or you went further?
After a year, I enrolled in the University of Jos to do my first degree in Hausa, Arabic and Islamic Studies. In my final year, a group of scholars came from Saudi Arabia and because I had been sending students to them for further studies, I went to greet them. They told me that they were organising a sort of course for Higher Islamic Studies and asked me to partake. I was attending the course and doing my degree programme side-by-side and after the course, I came second in the class. The visiting scholars asked me to obtain a form in order to pursue further studies in Saudi Arabia but at first, I declined, citing my age. I told them that I was 33 years of age and the school normally accepts students of between 20 and 25 years. They asked me not to worry about that and on that note, I filled the form. After graduating from UniJos, I got admitted into a university in Saudi Arabia where students from across the world usually study. There are usually not more than 45 in a set. At the university,  I studied every facet of the Qur'an. At the end of the four-year programme, I also came out with flying colours; in fact, the school authorities wanted me to pursue my Master's degree. I even obtained the form but I later changed my mind and returned to my family.
From then, did you go into full-time teaching?
When I returned, I went back to the University of Jos to obtain my Master's degree. In 2007, I registered for a PHD programme at the Usumanu Dan Fodio University, Sokoto. The school asked me to do my thesis on the Izala movement, especially how it contributed to the growth of Islam in Nigeria. According to them, those who had been writing about it were not qualified enough to do so.
Before Dr Ahmad Abubakar Gumi started the yearly Ramadan Tafsir, an interview was conducted where he came first and you and the late Sheikh Jaafar Adam, came second and third respectively. Some people are of the opinion that another interview ought to have been conducted to select his successor in the interim and not just for you to step into his shoes. They argue that between then and now, new scholars may have emerged. What is your opinion on this?
Just like you said, an interview was held before Dr Ahmad came to Nigeria to start the Ramadan Tafsir. He was called on the phone and the speaker was put on and he was asked questions. The late Jafaar Adam, Malam Isiaka Yunus and I, were physically interviewed and at the end of the exercise, Dr Ahmad came first while I came second and Jaafar came third. The late Sultan Muhammad Maccido wrote to tell me that I was Dr Ahmad's deputy and since he started the yearly Tafsir, I have consistently been coming for the opening and closing sessions. Significantly, we have been friends since our student days in Saudi Arabia. He used to visit me in Medina and I used to go to Mecca to see him because we attended different universities. However, he was unable to make it to the country this year because of what happened. To answer your question, I'm ready to face another interview if the need arises; if a committee wants to scrutinise my claims to Islamic knowledge, I will be ready to present my papers to it.
What I noticed was that when you started the Ramadan Tafsir, the mosque was not as crowded as it used to be in the preceding years. My reading of the situation was that you were not engaging in the popular past time of attacking government or other sects that was why…
Attacking government is not a good approach. There is no one who can be independent of government. No matter the situation, government still has some use. It is advised that governments should be counselled and in doing so, the advice should be given through the right channel. If the government heeds it, then it is alright. However, as clerics, whenever we see anything that is against the Qur'an and Sunnah, we will point it out, but not in a confrontational way.
On the issue of low attendance during my Tafsir, I don't think your information is correct. Even in the early days, I learnt that the mosque was filled to capacity. Some people even told me that some committee members had boycotted the Tafsir a few years ago but they are  attending this year.
What if government fails to heed counsel, will it not be right to confront it?
It will be difficult for government to ignore a wise counsel if given through the appropriate channel. Prophet Muhammad (SAW), warned against confronting constituted authority. If the people in government fail to follow the right path refusing several counsels, it is better to leave them to their ways. The people should then pray to Allah for better leaders and He will answer their prayers.
Some critics are saying that you do not entertain too many questions during Tafsir as you are more concerned about covering a lot of ground. Is this correct?
You know that people are different. It is not surprising that I may be going too fast for some people. But on the issue of entertaining questions, it will interest you to know that I have been a teacher for 30 years. And answering questions is part of my work as a teacher. I will never be angry if someone asks me 10 reasonable questions. That is the essence of studying the principles of education. Anyone who has that background will know that in a classroom setting, there are always three categories of people. There are some who will believe everything a teacher says, others will weigh it, while the third category will dismiss whatever he says.
Does the Izala Movement or government pay you a salary, or do you engage in business in order to keep body and soul together?
I earn some income from the schools that I run in Jos. The Izala Movement does not pay me. I also have a farm  at Gumau, close to Jos.