GAZA MILITANTS VOW NEW ISRAEL ATTACKS AFTER PEACE TALKS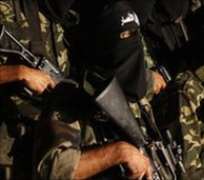 Hamas militants did not rule out suicide attacks against Israel
Militants in Gaza have vowed to step up attacks against Israel, following the first direct talks between Israeli and Palestinian leaders since 2008.
A Hamas spokesman said that 13 groups had joined forces to launch "more effective attacks".
In Israel, right-wing activists also condemned the talks in Washington.
The US Middle East envoy earlier said the talks, between Israeli PM Benjamin Netanyahu and Palestinian leader Mahmoud Abbas, had been "constructive".
The talks at the US state department – the first such negotiations in 20 months – had been initiated by US President Barack Obama, who gave both sides a one-year deadline to reach a solution.
The Israeli and Palestinian delegations agreed to meet again in the Middle East in two weeks.
'All options open'
Abu Ubaida, a spokesman for Hamas' military wing, said that 13 armed Palestinian groups – including the Islamic Jihad and the Popular Resistance Committees – met in Gaza City on Thursday.
"We declare that the actions of resistance have gone into a new and advanced stage of co-operation in the field at the highest levels in preparations for more effective attacks against the enemy (Israel)," the spokesman was quoted as saying by Reuters.
Asked if such attacks would include also suicide bombings, he said: "All options are open."
Earlier this week, the armed wing of Hamas claimed responsibility for two attacks that killed four Israeli settlers and wounded two others in the West Bank.
Hamas, who seized control in the Gaza Strip, is a rival of Mr Abbas' Fatah group, which runs the West Bank.
Hamas was responsible for dozens of suicides attacks against Israel since 2000.
In Israel, there has also been an angry reaction to the Washington talks from right-wing activists, the BBC's Wyre Davies in Jerusalem reports.
Some of the activists condemned Mr Netanyahu for calling the Palestinians his partners in peace.
Even some members of Mr Netanyahu's coalition government said that talks would lead nowhere because Israel could not compromise on issues like Jewish settlements on the occupied Palestinian territories, our correspondent adds.
'Constructive mood'
On Thursday, US Secretary of State Hillary Clinton, who hosted the talks, told Mr Abbas and Mr Netanyahu they had the "opportunity to end this conflict".
Almost exactly 17 years ago at the White House, an earlier generation of leaders signed a document that was supposed to start the process of ending the conflict between Israel and the Palestinians.
It didn't. Thousands have been killed since then.
If these talks fail – which is quite possible – it will be even harder next time around.
This is no longer just a conflict between rival nationalists over the possession of land.
Steadily, a religious war is being grafted on to it as well.
Making deals between nationalists has so far been impossible.
Compromise between those on both sides back in Israel and the Palestinian territories who believe they are doing God's will would be much more complicated.
Leaders clear first hurdle
She said the US had "pledged its full support to these talks and we will be an active and sustained partner", but said Washington would not impose a solution.
"The core issues at the centre of these negotiations – territory, security, Jerusalem, refugees, settlements and others – will get no easier if we wait, nor will they resolve themselves."
Speaking after Mrs Clinton, both Mr Netanyahu and Mr Abbas acknowledged the difficulty of the task ahead.
"This will not be easy," Mr Netanyahu said. "True peace, a lasting peace, will be achieved only with mutual and painful concessions from both sides."
Mr Abbas said: "We do know how hard are the hurdles and obstacles we face during these negotiations – negotiations that within a year should result in an agreement that will bring peace."
The leaders also raised two of the issues that are central to the talks: security for the Israelis, and Jewish settlement construction on Palestinian territories.
"We call on the Israeli government to move forward with its commitment to end all settlement activities and completely lift the embargo over the Gaza Strip," Mr Abbas said.
Mr Netanyahu said "a genuine peace must take into account the security needs of Israel". He also repeated the demand that the Palestinians recognise Israel as a Jewish state.
After their statements, Mrs Clinton, Mr Abbas, Mr Netanyahu and the US envoy to the Middle East talks, George Mitchell, broke off for talks away from the media.
Mr Mitchell emerged to say that Mr Abbas and Mr Netanyahu were talking alone. He said relations between the two men were "cordial" and there was a "constructive and positive mood".
He said the two leaders had agreed to hold further talks in the Middle East on 14-15 September, then about every two weeks after that.
It had already been agreed, Mr Mitchell said, that the two sides would work to reach a framework agreement on all the issues dividing them that would pave the way for a comprehensive treaty.