DAUGHTER MEDIATES IN ALAAFIN, ALAO-AKALA'S ROW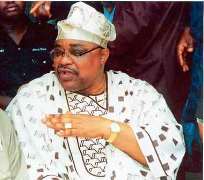 Adebayo Alao-Akala
One of the daughters of the Alaafin of Oyo, Oba Lamidi Adeyemi III, Princess Folasade Adeyemi, on Wednesday mediated in the current face-off between his father and the state Governor, Chief Adebayo Alao-Akala, with a call on the two actors to sheathe their swords.
She has also called on former President Olusegun Obasanjo to reconcile the warring factions because she believes he has all it takes to resolve the matter.
The frosty relationship between the monarch and the governor blew open recently when the Alaafin petitioned the Presidency and the Inspector-General of Police, Mr. Ogbonna Onovo, alleging that the governor was planning to assassinate him.
The governor has since denied the allegation.
But addressing journalists amid sobs on Wednesday in Ibadan, the state capital, the princess called on his father and the governor to forgive each other and forget about the past in the interest of peace.
Specifically, she called on the Alaafin to overlook whatever Alao-Akala must have done wrong because it was not politically expedient for him, as the chairman of the state Council of Obas, to allow a crack in his relationship with the governor.
The princess, who is aspiring to represent Atiba/Afijo/Oyo East and West Federal Constituency in the House of Representatives on the platform of the Peoples Democratic Party, asked the traditional ruler to note that as the 'Iku Baba Yeye, no mere mortal can murder Iku.'
She asked the traditional ruler to see Alao-Akala as his son, his friend, his governor and as an image of God with whom he shares common humanity.
She said, 'In the name of God and in the true spirit of Ramadan, a special month of forgiveness in Islam, forgive Otunba Alao-Akala. To err is human, to forgive is divine.
'To Governor Alao-Akala, you are known for your respect and regard for traditional rulers and stool. You should promptly demonstrate same now.
'You need to remember the critical role played by the Alaafin when it mattered most as you climbed the ladder to the pinnacle of power in Oyo State.
'There is no reason for feuding at this time. You should look at the good things you share with Alaafin and not the combative ranting of some lesser minds, who tend to feed fat on this saddening situation.
But the traditional ruler has faulted the position of the princess for dabbling into a matter that she knows little or nothing about.
His Chief Press Secretary, Mr. Fehintola Azeez, who spoke with our correspondent on the telephone on behalf of his principal, said the princess did not seek a clearance from the palace before addressing journalists on the issue.