GROUP HAILS ENDORSEMENT OF JONATHAN BY S'WEST GOVS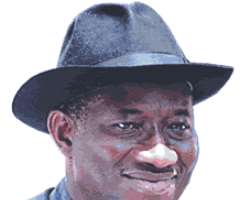 Goodluck Support Group (GSG), Ekiti State chapter on Monday commended South West governors and leadership of the Peoples Demoratic Party (PDP) for endorsing President Goodluck Jonathan as the candidate of the party in the 2011 presidential election.
Addressing newsmen in Ado-Ekiti, the state Coordinator of the group, Chief Femi Akinyemi, said with the support of the governors and the leadership of the party, President Jonathan would come out victorious in the general election in the zone.
Akinyemi said: 'With the adoption of President Jonathan by the South West governors, the coast is now clear for the president's total victory in the South West.'
He described the endorsement as a testimony to the fact that the party's leadership in the South West held sacrosanct the unity of the nation, charging other zones in the country to take a cue from the PDP leaders in the South West.
According to the former Speaker of the old Ondo State House of Assembly, 'the emergence of President Jonathan as Nigeria's helmsman was divine. It was an arrangement made by God just to correct some of the major imbalances in the Nigeria's power structure and reposition the country for a greater future.
'In 1999, the South West got the presidency as a compensation for the injustice of the past, especially the annulment of the June 12, 1993 presidential election said to be won by the late Chief M.K.O. Abiola, who also died in detention.
'This time around, by God divine arrangement, someone from the South-South region is now our president. And it can be seen that since he took over power, the Niger Delta crisis, which had threatcdrddfefened the economic and political existence of the country has subsided.
'It is, therefore, important that we should look beyond selfish political agenda and consider the corporate existence of Nigeria as a country by reinforcing the confidence of the South-South people in the oneness of the country with overwhelming support for President Jonathan's presidential ambition.
'On Saturday, our great party, the PDP in the South West demonstrated its understanding of this dynamism by throwing its weight behind President Goodluck Jonathan for the 2011 presidencial election. It is hoped that other zones will emulate the South West and declare their support for the president soon.'